Taking a vacation or a business trip to a bustling metropolis like New York City does not preclude you from getting back to nature. The New York City area offers plenty of hiking trails for outdoors enthusiasts, from simple loops to enormous nature parks and reserves. Wake up in your New York hotel bedroom, strap on your hiking shoes, and set out for one of these picturesque destinations.
1. Jamaica Bay Wildlife Refuge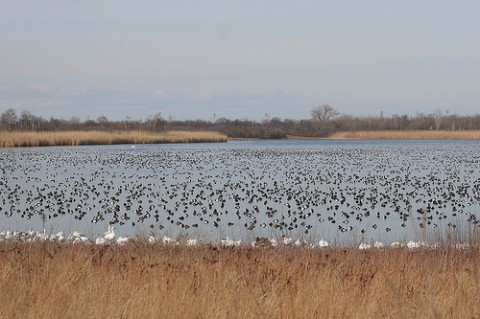 Image via Flickr by Howard N2GOT
Located less than an hour south of the city center, the Jamaica Bay Wildlife Refuge offers a peaceful respite from the highways and soaring buildings of Manhattan. The bird watching opportunities alone make this a prime destination for nature lovers, as the refuge contains more than 300 species, but the hiking trails provide plenty of room to spread out and get your heart rate up.
Scenic trails wind through ponds of brackish water and dense networks of salt marshes. Birds land on the surface of the water as well as on central islands, and plenty of interesting flora grows along the trail borders. This is also a prime place to spot diamondback turtles and horseshoe crabs.
During the spring and summer months, park rangers offer guided tours and nature talks. This is the perfect way to introduce the kids to New York wildlife if you bring the little ones along for the ride. If you enjoy looking at different bird species, bring a camera or a pair of binoculars to boost your eyesight.
2. Greenbelt
Staten Island offers another nature preserve with extensive hiking trails and beautiful scenery. The Greenbelt offers nearly 40 miles of hiking trails, many of which are paved for easier passage. Take the kids, a friend, or a spouse, or take a relaxing morning hike by yourself to escape the noise of the city.
The Blue and White trails are the easiest, geared toward beginning hikers, while the Yellow trail introduces a few challenges in terms of terrain and elevation. Bike riders should consider a trip on the multipurpose trail, which is the only Greenbelt path to accommodate bicyclists. For hikers who desire more access to wildlife, the Nature Trail offers chance encounters with flora and fauna.
Since insects, snakes, poison ivy, and other dangers lurk in the wilder areas of the Greenbelt, it is a good idea to remain on designated paths. Wearing long pants, socks, and closed shoes can also protect your legs while hiking in this area.
3. Pelham Bay Park
New York City's largest nature area, Pelham Bay Park, is located in the northern sector of the Bronx and covers nearly 3,000 acres. Some of the tidal areas become walkable during certain times of the year, but there are always many miles of available hiking trails.
The area is also home to a couple golf courses, several playgrounds, and numerous acres of open fields. Athletic courts draw considerable activity during the summer, but much of the trails remain quiet and secluded regardless of the time of year. Plan a picnic after a long hike and enjoy it near Split Rock.
Make sure to visit Orchard Beach, which features an almost perfectly curved coastline that is perfect for walking or jogging. The Hunter Island Coast is beautiful in a different way, offering a rocky coastline with lots of green vegetation and perennial flowering plants.
4. Surprise Lake Loop
Most of these hiking trails feature fairly easy paths through beautiful scenery, but the Surprise Lake Loop, located in the Jersey Highlands, offers a far greater challenge. This difficult hike skirts the Bearfort Mountain crest until you arrive at Surprise Lake, one of the most beautiful waterfronts in the state.
The surrounding Hemlock forests and the jagged outcroppings of rock make this challenging hike worth all the effort. It is only about six miles long, but there are numerous changes in elevation, some of which happen in quick succession. Additionally, there are times when you might have to scramble up a rocky slope to continue along the path.
5. Harriman State Park
Offering more than 200 miles of trails, Harriman State Park contains 31 bodies of water and a variety of flora and fauna. It is located about an hour from New York City, but the drive is worth it if you enjoy hiking in beautiful surroundings. Many of the trails take you along green-carpeted hillsides, offering unprecedented views into the valleys below.
About half of Harriman's trails are marked, including the Blue Disc Trail and the Long Path. Approximately 20 miles of the Appalachian Trail are also found within this park. In some parts of the area, horseback riding, motor biking, and bicycling are also allowed on trails, so pay attention to the trail head markers so you know what to expect. Campgrounds, cabins, restrooms, and other facilities provide creature comforts if you decided to stay here one night rather than return to your hotel.
6. Fort Lee Historic Park
Located in New Jersey, just half an hour from New York City, Fort Lee Historic Park offers beautiful hiking trails set on a bluff that overlooks the Hudson River. If you need more trails to explore, you can also venture into the neighboring Palisades Interstate Park.
In addition to the river, it is possible to view the upper Manhattan skyline from Fort Lee Historic Park. This is a great place to visit with the kids, especially if you have a history buff in the family, as the park was the site of a fort created during the American Revolutionary War.
While a photo walk through the city or a ride on the subway might offer a quintessentially New York experience, nothing compares to nature. Hiking in and around New York City offers a brief reprieve from the urban jungle. Use this time to decompress, relax, and breathe fresh air as you give your legs a workout.
Do you love to hike in New York City? Share your favorite spots below with people who might be visiting in the near future!
Laura College is a freelance writer and editor from Houston, Texas. She enjoys creating content for sites like Hipmunk.