Budget vs. Luxury Travel – All about the Dollars
For those of us who have never done a long-term trip, it is quite easy to lose ourselves in the fantasy of traveling the world for a few uninterrupted years. We see ourselves climbing Mount Everest, riding camels in the Egyptian desert, visiting elephant orphanages in India, Dancing Salsa in Havana, and hiking the Inca Trail to Machu Piccha. Believe me, I have been exactly where many of you probably are right now – fantasizing. We sometimes get rudely awakened from our fantasies by that annoying pain in the butt called money. It puts limits on the length of our trips, where we stay, what we eat, and how we get there. Many of us don't choose between being a budget traveler or a luxury traveler, our budgets make that choice for us and set us off on a predetermined path.
Looking Back
I remember sitting on my grey swivel chair in my cubicle on the 17th floor, looking out the window daydreaming about traveling, all the while wondering why the damned air conditioning was turned up so high.  I would have traded my first-born child and my comfortable queen size bed in an instant if someone had offered to pay for a few months of hardcore travel.
For over a year, I saved every possible dollar so that I could afford a trip across Central and South America. I cut back on the after-work trips to the local watering hole with my co-workers, packed home-cooked lunches, and even took my own coffee to brew at work. I went to a nearby bookstore just about every other day to read travel books and when at work, I cautiously surfed the web for ideas on how I could creatively stretch my dollars when I hit the road.  I wanted my trip to be epic. I was planning for year but hoping to never have to return to the boring existence I called life. Just planning the trip was an adventure.
The big day finally came. My bags were packed, tickets were booked, vaccines taken and a rough travel plan made. As the plane lifted off at Pearson International Airport in Toronto, I closed my eyes and drifted off to sleep with a bright smile on my face.
The Early Days – Traveling on a budget
At first, I was super elated when I found shared dorm rooms at backpacker hostels for under $5.  After all, I got to meet really cool people, exchange travel stories, and best of all – save money. I even remember one time when I stayed in the unfinished attic of a hostel in Guatemala for an absurdly low rate of $1.50USD/night.  I was making my dollar go the extra mile, or three. In the words of Charlie Sheen, I was 'winning'.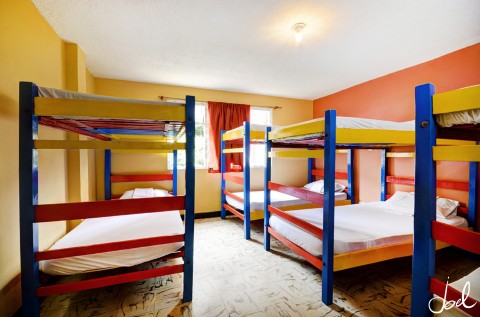 Three months into my trip, I met up with a group of friends who had two weeks off for vacation.  At this point I was already a seasoned backpacker. I had amassed as many entertaining travel stories as I had those colorful embroidered thread bracelets that every backpacker feels compelled to wear as a symbol of their accomplishment as a traveler.
I happily served as quasi tour guide/concierge for my friends as we made our way across Honduras and into Nicaragua. We stayed at some really dodgy hostels and hotels to stick to our budgets, or should I say – to stick to MY long-term travel budget. They were only traveling for two weeks.
By the end of the two weeks my friends had met their limit of  'roughing it'. They just wanted a comfortable bed in a clean, cozy room with no risk of being attached by bedbugs or lurking cockroaches, so we stayed at the Hilton Princess in Managua.  I arrogantly dismissed them as being spoiled softies, not having the marbles to be a 'real' traveler like myself.  However, I must admit that for the first time in 3 months, I enjoyed a hot (not borderline warm) shower, slept like a king on a bed with 5 feather pillows, and watched hours of brain-numbing reality TV in High Definition. I guiltily enjoyed every pleasurable second of the first class pampering, feeling like I was betraying my brothers who were still keeping it real in the rugged hostels of the gringo trail.
The Trying Times
My friends left but I continued on my epic journey southbound. However, I couldn't go back to my old ways. Things that at first seemed so normal and easily ignored began to irritate me.  The bunk beds and their flat hard excuses for pillows, my food going missing from the fridge in the shared kitchen, the backpacker in my room who refused to leave his wet smelly shoes outside the dorm, and the loud drunk ones who turned on the lights at 4:30am. I would have traded my travel medals (the faded colored bracelets) and upcoming 10-hour hike for a good night's sleep in the Hilton. Oh the sweet irony – I had done a complete 360.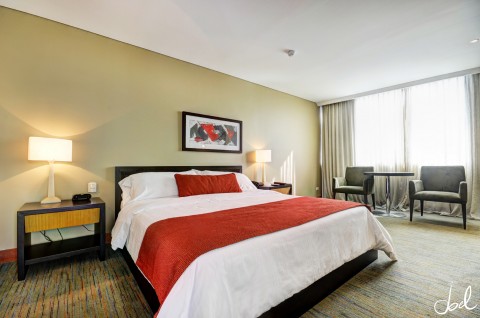 These Days – Accepting Change
Now it has been over 2.5 years since I have left my old life behind but much has changed. I still dream of traveling to unknown places and meeting new people but I my dreams have evolved a far way from where they started. I realized that what I really needed wasn't an absurdly long trip that forced me to stay in hostel rooms, eat cheap street food, and take 16-hour bus rides instead of a 30-minute flight. What I needed was to change my lifestyle to one that allowed me to enjoy every day of my life and afforded me more than just two weeks off of work.
With a clear conscience I can now say that I would prefer a bit more luxury in my travels. Although on odd occasion I may still stay in a shared dorm room, I now opt for the comforts of a private room or a quiet hotel with an agreeable bed.
I realize that the ideal trip length for me is just about a month or two. This allows me to spend a bit more on accommodation in more luxurious accommodation and enjoy the finer things that each city/country has to offer.
Need help planning a slightly more luxurious trip of your own? Here's one company that does it. Find them at  Quintessentially.com