"Angels have no philosophy but love."  ~Terri Guillemets
Over the past few months while living here in Medellin I heard of an organization called 'Angeles de Medellin' (Angels of Medellin), ran by an American guy named Marcos Kaseman. From what I was told, Marcos was like some sort of hero to the people of the little village where he started his learning center. This is all that I knew about Angeles de Medellin – until I met Oliver, a lad from England who had just finished a three-week volunteering stint in the Amazon and was looking for another volunteer opportunity here in Medellin.
After about a week of searching for volunteer programs on the internet, Oliver stumbled over the Angeles de Medellin website and sent an email to its charismatic founder Marcos. A few days later he was volunteering with Angeles de Medellin and telling us how genuinely inspired he was by Marcos and what his program was doing for the rural village Regalo de Dios. It is through Oliver that I got the opportunity to spend a day with Marcos and the many beautiful lives who have virtually slipped through the cracks in Medellin.
Regalo de Dios and the Angles of Medellin
Regalo de Dios is a little mountain village in Bello, a suburb of Medellin. The irony is that Regalo de Dios means "Gift of/from God", but other than its beautiful people this village doesn't seem to have been 'gifted' with too much to talk about. On the contrary, Regalo de Dios appears to have been given more than its fair share of poverty, neglect and other ungodly things. Many of its inhabitants are families who have been displaced by the violence of civil and drug wars that plagued Medellin for decades. Others are just downright poor and cannot afford rent or property in any of the nicer, more developed areas of Medellin, so they retreat to the hills where they have a chance of survival.
Marcos started his Angeles de Medellin project to help these displaced victims of violence who lack support from any other organization. With independent donations from people all over the world, Marcos is able to purchase food, clothing, medicine and school supplies for children and their families. All donations go directly to helping these families. In addition, Marcos and his volunteers give free English and basic computer skills classes on a daily basis.
"You don't want to come walking around here if you aren't with me, it isn't safe, especially at night" ~Marcos
You won't find Regalo de Dios on any tourist maps of Medellin. As a matter of fact, most Medellin residents have never been to this part of town since it has a reputation for being quite dangerous. Entering the village, buses are stopped routinely by gang members who demand a standard 17,000 COP toll in exchange for safe passage. What happens if the bus drivers decide not to pay the toll? Well Marcos told us of two horrific incidents – one when a bus was set on fire and another when the driver of a bus was slashed up by machete when he refused to pay. Even shop owners in the village have to pay 'insurance fees' to the gangs to ensure that their shops are safe. It's the law or should I say lawlessness of the land.
When we stepped off the bus on a dusty road (if you can call it that) in Regalo de Dios I immediately remembered a science-fiction novel that I read as a child called The Chrysalids. In the novel there is a village on the outskirts of the main town Waknuk called the Fringes. In the Fringes food is scare, the soil infertile, and things are contaminated, this is where people with deviations from the norm were exiled. They were considered blasphemies of God. Had I arrived at the Fringes of Medellin?
I couldn't believe how different Regalo de Dios was from the wealthier parts of Medellin where I had spent most of my time. These people were living in a world of their own. I have to admit that although I have traveled and photographed through some very grimy areas of Central and South America, I was still quite nervous carrying around my flashy DSLR camera. Fortunately, Oliver had forewarned me not to take out my camera on the bus or snap shots of people along the way. Gang members hate having their photos taken and would usually stop the bus and seize the camera if they caught someone.
When we got to the Angeles de Medellin learning center Marcos was already setting up the computers and giving the place a quick dusting before his students arrived. He stopped momentarily to introduce himself and welcomed us with a warm smile and firm handshake. I expected a much bigger learning center and an even bigger, tougher looking man! On the contrary, the center is well-kept but modest at most and Marcos is just an average looking American follow – bigger in heart, charisma, and ambition than in physical stature.
"I never talk about religion or politics here. I don't care about all of that stuff, I'm here to help people. I don't make any money from doing this and I don't charge people a dime to volunteer" ~ Marcos
One by one the kids began to pour through the front door, all greeting Marcos (and Oliver) with a big hug. As custom at the center, they showed their palms to Marcos who approved if they were clean and washed, then allowed them to enter to use the computers or any of the other games and toys.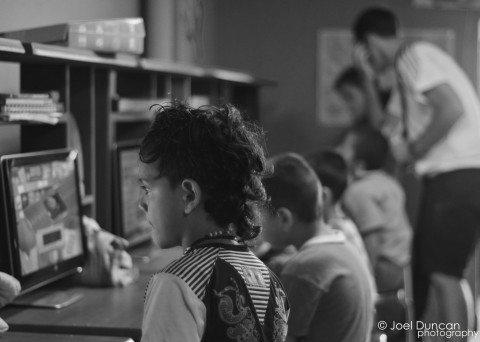 From speaking to Marcos over the course of a day I realized that he is a very selfless man with a strong desire to continue helping people in the community as he has been doing for seven years now. Five days a week he travels one and a half hours to teach at the learning center. He says that there are three main groups that he aims to help – children (first), the crippled, and the elderly.
Angels Do Exist
In 2010 a  man from Los Angeles named Allen Chen generously donated 5 computers to the school. This gift is one that keeps on giving.  Now well over 250 children have had the opportunity to learn to type and use computers. Many of the children had never even touched a keyboard before the charitable donation. Marcos told several stories of how relatively small donations have changed and sometimes saved lives by creating opportunities that would have been impossible without the program.
"The youngest kids who go to the center to play and learn are 6 years old, but Marcos does provide clothes and other gifts to younger kids as well – including babies! The 6 year limit isn't really enforced vigorously, as I know some 4 and 5 year olds who go along with their older siblings. There isn't really an upper age limit as adults are welcome to use the computers to learn to type and they can attend English class." ~Oliver
As I walked with Marcos through the streets of the village, children came running out of their homes screaming "Marcos, Marcos, Marcos". It was obvious that he was well known and loved in the community. However, it wasn't always that way. Years ago Marcos received death threats from a local paramilitary who lived two doors down from the learning center and didn't appreciate the animated foreigner's presence. He threatened to kill him if he came back to Regalo de Dios but that didn't stop Marcos! The next day Marcos returned to confront the threat and told the man that he wasn't bothering anyone and he didn't have any agenda – except to help the children. The paramilitary told Marcos that he would be watching him and one wrong move would have him killed. Today Marcos is alive and the paramilitary is behind bars – luckily! Today if you walk around the village and you let them know you are with Marcos, you can walk freely – Let's say as one of the angels helping the community.
In a few days I will be returning to Regalo de Dios with my friend and fellow traveling photographer Troy who has also done a great blog post about Marcos's project. We will continue photographing and filming – our way of bringing attention to communities like Regalo de Dios and amazing projects like Angeles de Medellin. Have a look at Troy's post.
Have a look at Oliver's Angeles de Medellin photo gallery
For more information on Angeles de Medellin and for volunteering opportunities
Visit their Website: Angeles de Medellin
Join the Facebook Group
Contact Marcos directly by email: m2750k@hotmail.com or Marcos@Angelesdemedellin.com
An Important Note on Safety – Anyone wanting to visit or volunteer should arrange to meet Marcos and travel up the mountains with him and NOT on their own. He normally meets volunteers at Acevedo Metro station at 10am each day. Contact him directly to arrange a visit.