Are you a budget traveler heading to Bocas Town? Synonymous with paradise, Bocas del Toro is a large archipelago (group of islands) on Panama's dreamy caribbean coast. With clear blue waters, white sand beaches, excellent diving, lively nightlife, and affordable prices, Bocas is no longer just a retreat for the wealthy – it is quickly growing in popularity as a prime backpacker destination. Bocas Town on Isla Colon is where you will find the most hotels, restaurants, and nightlife, but it still manages to maintain all the characteristics of a laid back tropical island getaway. By simply eating, drinking and sleeping at the right places, you can easily survive on a budget of about $30 USD per day. Here are five recommendations to help you stretch your dollar and fun while in Bocas Town.
Stay at Hostel Heike [$10 USD/night] – Located right on the main street (3rd street) in the heart of lively Bocas Town, Hostel Heike is the perfect spot to make your home while visiting the islands. When you aren't island hopping, sun bathing, or partying the night away, take it easy in a hammock on Heike's breezy rooftop patio or on the colonial style balcony overlooking the central park. Make use of the fully equipped kitchen and take advantage of the free pancake breakfast and coffee every morning. The staff are super friendly and always willing to help you organize day trips and onward travel from Bocas. Wifi is conveniently available throughout the hostel. Hint: Bocas can get disgustingly HOT, even at night! For $12 per night, you can spring for an air-conditioned room and enjoy a comfortable night's sleep. Check out Heike's website for more details.
Eat at Restaurant Tom [$3.50 USD/meal] – Hungry for some local cuisine? Practically located under someone's house near the tiny airport on Isla Colon, Restaurant Tom serves up delicious Panamanian dishes at very affordable prices. Don't be deterred by the location, what it lacks in ambiance it makes up for in good eats. Slurp down a bowl of the 'traditional chicken soup with vegetables' [only $1.50] or devour a plate of Pollo Guisado Estilo Criollo (Bocas Style Creole Chicken) – my personal favourite [$3.50]. All meals come with coconut rice, beans, fried plantain and a garden salad. Tom's only opens from 10am – 4pm on weekdays, so lunch is probably your best option.
"]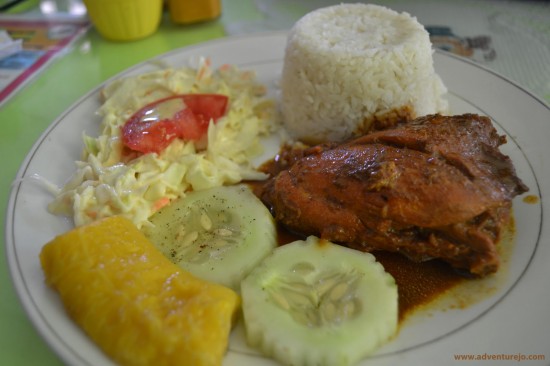 Swim at Starfish Beach [$8-$15 return trip on a water taxi] – Crystal clear turquoise water, powdery white sand, coconut trees, and yes – countless starfish. Grab your bathing suit, sun screen, and camera, then take a breezy half-hour water taxi from Isla Colon to Starfish Beach – a postcard worthy landscape. Although the beach is only a narrow strip of white sand, the water is clam, clear and perfect for swimming and snorkelling. Water taxi drivers will ask for $15 USD roundtrip, but these prices are negotiable – many will do it for $8. Hint: Buy a small disposable cooler [$5 USD] from one of the variety stores in Isla Colon and load it up with a few refreshing beverages since there are no bars on this beach.
Party at Aqua Lounge [$0 – ?] Nightlife anyone? From Isla Colon, you can see the lights and hear the bumping music coming from Aqua Lounge over on Isla Carenero. This open-air club is appropriately titled since it is built directly over the blue-green (aqua) caribbean waters. No cover charge, a great location, cheap drinks and rhythmic dancing tunes make Aqua a favourite for tourists and locals alike. Make no mistake about it, people go there to have fun drinking, dancing and hooking up, so don't expect a mellow atmosphere unless Aqua is having a slow night. In true Bocas style, the dress code is ultra-casual and many partiers go dressed in their bathing suits to take a dip in the pool next to the dance floor (expect to get wet). Getting there: Take a one-minute water taxi ride from the dock next to Barco Hundido over to Aqua Lounge [$1 USD each way].
Do Yoga at Bocas Yoga [$5 USD/class] – If you can break the viscous cycle of eat-drink-sleep in Bocas and you want to cleanse your mind-body-spirit, head to Bocas Yoga and start your day off with an invigorating class of Hatha Yoga lead by super-cheerful instructor Laura Kay. Classes are from 9:15am-10:30am (Monday – Friday) and are suitable for both beginner and advanced yoga students. Haven't tried yoga before? No problem. Laura tries to cultivate a non-competitive environment and encourages students to go at their own pace while focusing on calming their minds and opening their hearts. Hint: Avoid rushing. Show up 15 minutes early to reserve a choice spot in the studio and calmly ease into your yoga session. Don't forget to walk with a bottle of water. [Mats are available for a $0.50 rental fee]
Do you have any great tips for budget travelers going to Bocas? If so, be sure to share them by leaving a comment!