When planning your next trip, you want to choose somewhere with a lot of life, but where you can also take a minute to relax. Travellers look for a city with a lot of history and well-known landmarks, as well as good food and entertainment. For this traveller, London, England is the perfect city to visit.
London is known for its buildings and landmarks. The city is full of culture and history, bursting with fashion, art, and music. When planning a trip to London, people have some specific places in mind that they know they want to see. Famous landmarks such as The Royal Opera House, Westminster Abbey, and Buckingham Palace are on the top of everyone's itinerary. And with an abundance of gorgeous London hotels to stay in, your trip is complete. Now these are amazing landmarks and should stay on your list, however there is more to London than the most well-known attractions. Visit these hidden London attractions to get a first-hand experience of the culture of the city.
The Thames River Cable Car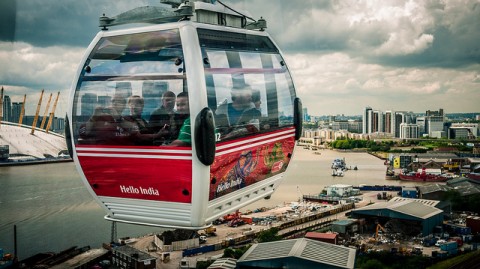 Image by [warrenchrismas] via Flickr
The Emirates Air Line is the UK's exclusive cable car that provides a 1.1-kilometre route across the Thames River. Crossing between terminals near the Royal Docks and the O2 Arena at Greenwich, this cable car gives riders a fantastic view of the city, Canary Wharf, the Thames River, and the Olympic Park. Sure you can visit the beautiful London gardens or walk along the river, but how many people have gotten a bird's-eye view of the city? So take a one-way trip or a "360 degree tour" on the Emirates Air Line for the most amazing view of London.
London Pub Crawl
Forget hopping on a tour bus. What better city to take a pub tour in than London, England. The London Pub Crawl Co. offers more tours than you could imagine. Choose between a guided or a self-guided tour and then select from an assortment of different tours the company has put together. These tours walk you through some of London's famous attractions and most iconic places, while taking you to three or four pubs along the way. Each in a different part of the city and featuring different types of ales and lagers, these tours cover just about everything.
Hands-on Butchery Class
If you like to cook and aren't squeamish at the sight of raw meat, the perfect workshop waits for you in London. The Ginger Pig, a London butcher shop with seven locations citywide, offers a butchery class in its Marylebone location. These classes take you back to the basics of buying meat and getting the most out of each cut. You'll get to bone and roll a loin, learn to flavor your meats, and finish the class by preparing your own sausages.
After each class, enjoy an informal feast with a couple of glasses of wine and take home some of your cuts and sausages. This class is perfect for a cook looking to learn more about flavor and cuts and the process of where meat comes from.
Supper Clubs
Supper clubs and pop-up eateries are coming up all over London and have become a staple in the restaurant scene. These supper clubs are temporary, restaurants that are there one day and gone just as fast. These eateries can pop up in all sorts of places: recently closed cafes, warehouses, disused tube carriages, or even in a fellow foodie's front room. Grabbing a seat at one of these supper clubs is a fun addition to your trip. Meet other food-lovers and enjoy unique and exquisite dishes that you may not find again.
Electric Cinema in Notting Hill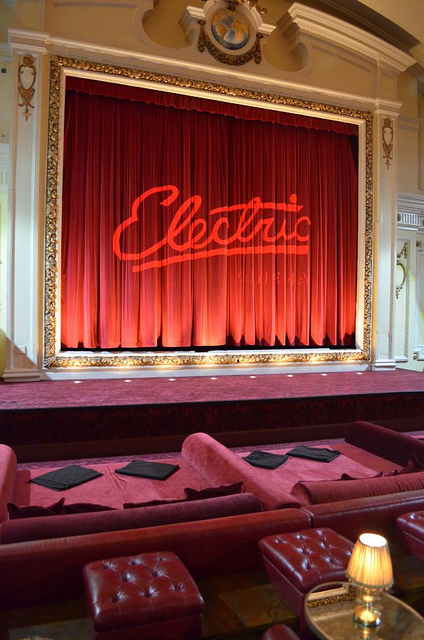 Image by Katie Clase via Flickr
Don't let a rainy day in London stop you. Instead, make it a movie night. Head over to Notting Hill for the most luxurious movie theater experience you will ever have. The interior of the Electric Cinema is elegantly decorated and filled with 100 years of the theaters history. Sixty-five leather armchairs cover the theater, complete with footstools and side tables for each viewer. Sound amazing? It gets better. Three 2 seater sofas line the back wall of the theater and six double beds make up the front row for the ultimate movie theater experience.
With all of these exciting new activities added to your itinerary, you just need a place to stay. There is no reason to settle when looking for a hotel. London has lots of beautiful hotels that leave you with money to spend elsewhere.
Grand Plaza Apartments
The Grand Plaza Apartments offer you a perfect place to stay. Not the traditional hotel setting, the rooms at the Grand Plaza are full apartments. Each room comes complete with a kitchenette, living area, and wi-fi. Located right near the tube station and overlooking Baywater Garden Square, this building gives you easy access to the city. Shopping and restaurants are nearby at Queensway and Whiteleys Shopping Centre.
YHA London St. Paul's
If you're looking for a much cheaper stay, the hostels in London are always a great option. The YHA London St. Paul's is easy to get to by tube or bus and looks out over a beautiful view of the city and St. Paul's Cathedral. Painted with vibrant colors, the rooms in St. Paul's all have a funky flair and make for a great environment to meet other travellers. Starting at only $25/night, the YHA London St. Paul's also offers organized activities like pub crawls and city tours.
London is full of exciting new adventures that most tourists never experience since they are so focused on visiting the city's famous monuments and landmarks. Don't skip over these landmarks, but also take some time to enjoy the great food and unique culture of the city. Take a minute to appreciate the small wonders hidden in the city and you will walk away with an unforgettable experience. Comment below and share your favorite hidden gem in London!
Author Bio:
Michelle Mazzola is a blogger and travel writer who lives with her family in New York. When she's not writing, you can find her travelling, kayaking, and practicing yoga.