"Paragliding isn't a weekend warrior sport, once you start it you have to be committed." ~ Russell (Instructor)
BUCARAMANGA, COLOMBIA: I watched enviously as the paragliding students took off into the sky like colourful giant birds. As I photographed from below, I knew that this was something that I had to experience for myself.
After spending a day with the instructors, pilots, and students at Colombia Paragliding and taking a tandem flight of my own, I really want to learn how to fly. However, as one of the school's seasoned instructors Russell says, "paragliding isn't a weekend warrior sport, once you start it you have to be committed." When he said you have to be committed, I think what he meant was once you start, you'll become obsessed so with it that you won't want to stop flying.
Every certified pilot that I spoke to at the launch site claimed that once they had finished their training and received their certifications, there was absolutely no turning back. JC, one of the certified pilots from Vancouver who has been flying for a few years now said, "You begin to find ways to afford your flying habit. You start to shuffle funds around just so you can get out and fly again." Even after taking a tandem flight with an instructor, I knew exactly what JC meant – I already want to fly again. Don't miss my flight video at the bottom of this post.
Understanding the physics behind paragliding – in simple terms
Me: "How does paragliding work? How does the parachute stay up in the air?"
Russell (Instructor): "It's sort of like a lava lamp. When the sun heats up the ground, big bubbles of air form and rise into the sky pushing everything up with it. These bubbles of air are called thermals. Sort of like if you were to pinch a sheet in the middle and pull it upwards off the bed."
The first big thermal usually rises around 9:30am but as the sun continues to heat-up the ground, the bubbles become more frequent until about 1pm when most pilots take a break" – the high frequency of rising thermals creates a lot turbulence and high wind.
After the first big thermal around 9:30am, there is a bit of a slow period when pilots wait for the sun to rise and create more thermals – this waiting game is what they jokingly refer to as the sport of Para-Waiting, the not so better half of paragliding.
"The good thing about this place (referring to Bucaramanga) is the consistency, yep consistency. Everyday is basically the same, with the same pattern of thermal activity starting at around 9:30am, so it's a great place to teach someone to fly." ~ Russell
Although learner pilots typically sail downwards to a landing area at the bottom of the mountain, skilled pilots are able to ride thermals in every direction – cruising sideways, downwards, and upwards into the sky. When they were finished flying or the wind dies down, seasoned pilots can actually land on the launch site – exactly where they started. This is referred to as top-landing.
"My first flight was pretty smooth. The take off was fine but then I spent most of the trip down just thinking about the landing. You fly with a radio so you get talked through it step by step as it´s happening which is great but while you´re flying down towards it it is still pretty scary. Such a rush when you touch the ground again and think through where you´ve just been. " – Susannah (England), pilot in training
It's no surprise that Bucaramanga, known as 'the city of parks', is quickly becoming one of the most popular destinations for people who want to learn the art of paragliding. Paragliding Colombia claims that there are 350 flyable days per year.
Fortunately, the owners of Colombia Paragliding opened a cozy hostel right next-door to the launch site, making it very convenient for students and certified pilots who want to spend more time flying and less time in the busy city. I paid $17USD for a night in a shared room at the hostel (breakfast included).
In general the hostel is clean and safe, and it is furnished in such a way that it feels more a friend's cottage in the mountains than just another backpacker hostel. To add, there is an absolutely beautiful view of the city, so don't forget your camera.
Note: There are no grocery stores near the launch site or hostel, so if you're going to be staying overnight, be sure to take some food and drinks for your lunch and dinner. The hostel kitchen is well-equipped, so many guests tend to save money by cooking their own meals.
Getting to the Las Aguilas launch site from downtown Bucaramanga
From anywhere on the busy carrera 33, hop onto a bus going to 'Piedecuesta'. The bus will have the name Piedecuesta written on the front window. Ask the driver if he's going to pass a place called 'Papi quiero piña'. Yep the place is literally called 'Papi I Want Pineapple'.  Get off the bus in 'Papi Quiero Piña' (right in front of an Esso gas-station) and take a another bus up the hill to 'Ruitoque'. Ask the driver if he's going to pass 'El Voladero Las Aguilas'. This second bus stops right at the take-off site.
Note:  you need to tell the bus driver to stop wherever you want to get off. The entire trip should take about 1.5 hrs.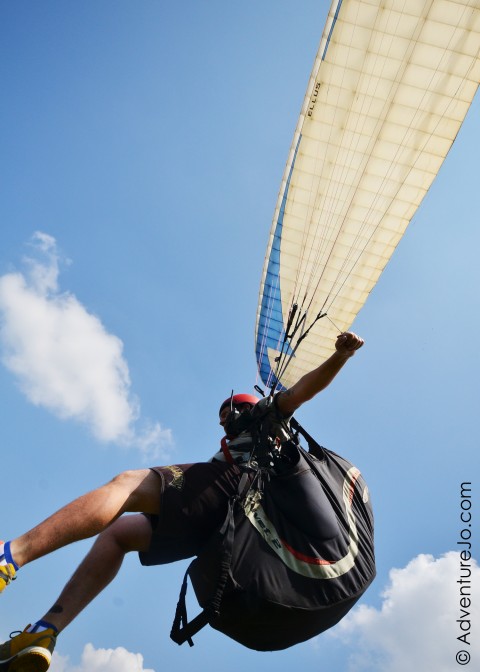 My Tandem Parasail
Since I wasn't allowed (and wouldn't dare) to go flying solo before completing the training/certification course, I decided to wet my appetite a bit by doing a tandem flight with a trained pilot. A 10-minute flight with a pilot is $25USD and $40USD for 20 minutes. I enjoyed every minute of my flight including the crazy twists and turns dubbed "wing-overs" (see the video). The only way I can describe the feeling is that it was like being an aeroplane without having the walls around me.
Would I do it again? Hell yeah!
Although I didn't have the time or the funds to do the complete beginner course, it runs for 10 days and costs $700USD, including the training gear which can be purchased at the end of the course.
When in Bucaramanga I stayed at Kasa Guane, a British-Colombian owned backpackers hostel in the downtown area.