Thinking About Learning To Dance Bachata In Medellin?
Writing this post about learning how to dance bachata in Medellin was inspired by a previous post I did a while back.
Nearly two years ago I made a little video about learning to dance salsa in Medellin Colombia. I was just tired of running off the dance floor with my tail between my legs whenever a salsa song came on the clubs. So I took matters into my own hands and decided to take organized one-on-on dance classes.
It was one of the best damn decisions I've ever made. Although today I am a bit out of practice, I can still confidently lead and dance with any girl when a salsa song comes on at a party or in a club.  Especially since I spend a lot of time in latin america – it is a priceless tool to have in the bag.
A Chance Meeting Leads Me To Bachata
A few months ago I was passing by a café near the popular Parque Lleras in Medellin when someone called out my name. He introduced himself as Yul, the owner of a dance school in the Poblado called Santo Baile. At the table with him was a beautiful woman Mayra, who he introduced as his partner and director of the Santo Baile dance school. They mentioned that they had seen my salsa video and thought it was pretty cool – I was pretty flattered by the compliment and the fact that they randomly recognized me.
They invited me to visit Santo Baile to see what it was all about. They claimed that it was the only school that taught real Colombian style salsa. As a matter of fact both Yul and Mayra are both professional salsa dancers from Cali Colombia, one of the salsa capitals of the world. I was intrigued!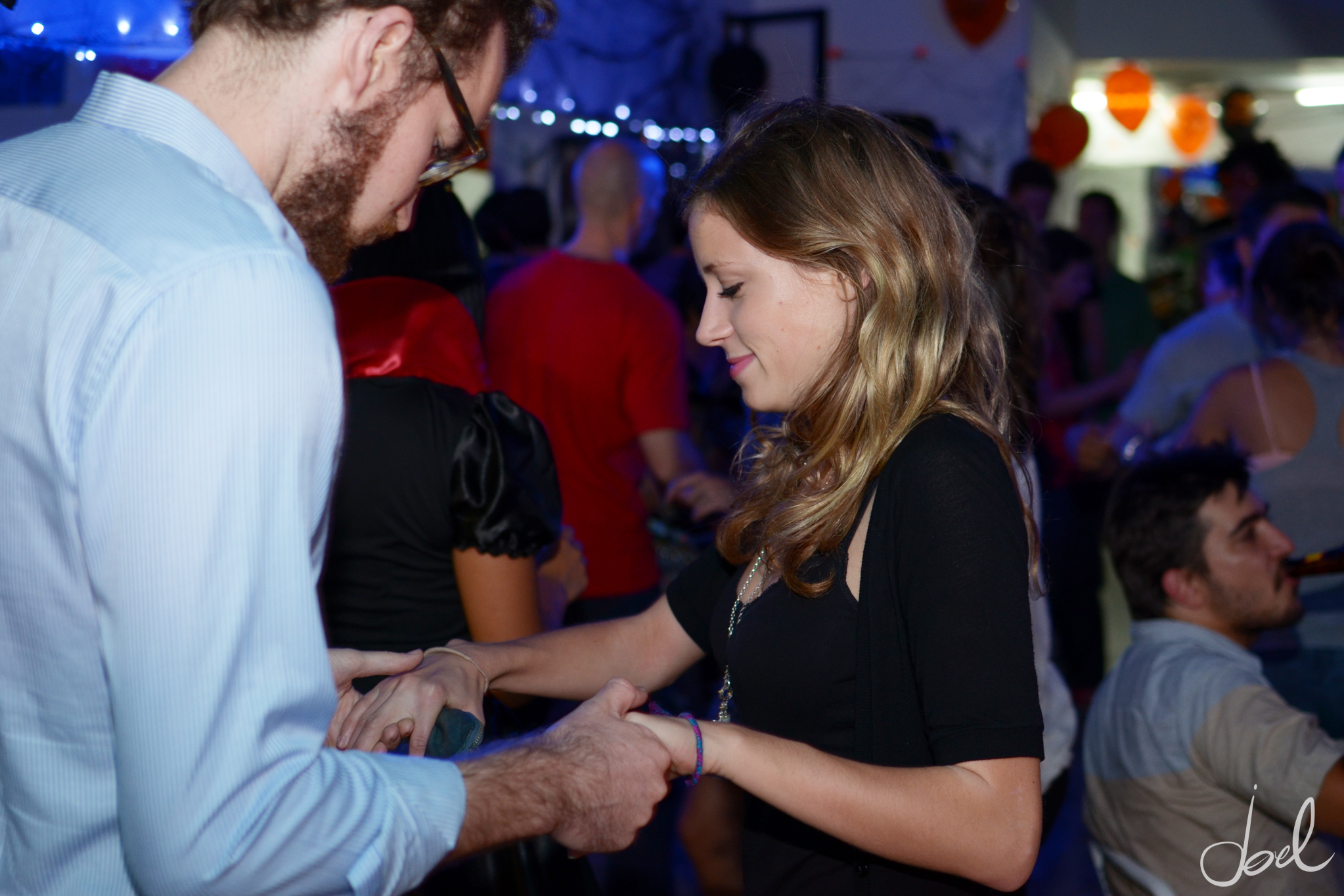 Students dancing Bachata at Santo Baile in Medellin
I accepted their invite and I went to check out the school. While taking a tour of the studio, I asked if they also gave bachata classes. As luck would have it, they did offer private bachata lessons.
For years I had wanted to learn how to dance Bachata but like with many other things, I never made the decision to start. So instead of learning more salsa, I decided to take a shot at bachata and I registered for a 10-class package with Santo Baile.
Mastering the Bachata Basics
Although bachata isn't nearly as popular as salsa is in Colombia, it is definitely gaining popularity and is being played more often in the clubs here and around the world.
My first class at Santo Baile was dedicated to mastering the basic bachata steps and a few simple turns. Just learning the basics made me fall in love with the music. I couldn't believe that I had waited so long to take a private class. The most important thing I learned that class was how to do a simple spin with a girl without losing the 1-2-3-4 beat.
In general the average colombian girl expects a foreign guy to be super awkward and make an absolute fool of himself trying to move with rhythm to a sexy latin song.
However, I've noticed that when Colombians dance to bachata they hardly ever do any turns. They tend to just move from side to side doing the most basic steps, adding a bit of their God-given sexy hip gyration.
So what I am saying is that if you can get the fundamentals down right you will be far more advanced than the average Colombian guy and probably outright impress just about any average colombian girl. If you have some 'god-given sexy hip gyration' of your own, you will own the dance floor.
So why bachata and why Santo Baile?
Bachata is without a doubt a much more sensual dance than salsa.
I can´t really explain it, but I feel like I connect more with the woman when I am dancing bachata than when I am dancing salsa.
Don't get me wrong, I love salsa and always will, but sometimes I get caught up in the spinning and footwork and forget to really connect with my partner.
On the other hand, when I dance bachata I am forced to slow down and focus on the movement of the woman's body and its response to the music. Not to be too cliché, but dancing bachata is all about making the woman feel sexy and sensual, it isn't about how fast YOU can move your feet or how many turns YOU can do. It's all about her.
Here is a video I took on my final bachata class at Santo Baile
I cannot stress more now incredible it is to take private dance classes with a good teacher. Note that I said 'with a good teacher'. The prices for private bachata classes at Santo Baile are very affordable and worth every penny.
All of the instructors are hand picked by Yul and Mayra and have to pass a rigorous test before being accepted as teachers at the school. I found all of the instructors to be very friendly and genuinely happy to be teaching their students.
TIP: You can also benefit from the free practice dance parties they host once a month at the studio. It is an awesome opportunity to test out what you have learned with all of the teachers and other students. Ask any of the teachers when the next party is!
Where to Dance Bachata in Medellin? Updated (16 Nov 2016)
Since writing the first part of this post two years ago, a lot has changed. Bachata is now more popular than ever. Perhaps even more popular that I had originally predicted it to get. Now it isn't such a challenge to find a club in Medellin where you can dance bachata. Although there is still no club that is specifically dedicated to bachata, you will hear at least a few popular songs being added to the mix at most clubs.
Most of the clubs around Parque Lleras play some Bachata, but there are a few where you are pretty much guaranteed to hear some Romeo and Prince Royce. Two of my favourite spots are La Rauna de Juana and Alicia Dorada – both conveniently located on Calle 10.
Do you have a favourite spot/recommendation for clubs in Medellin where we can dance bachata? If so, please leave it in a comment below.