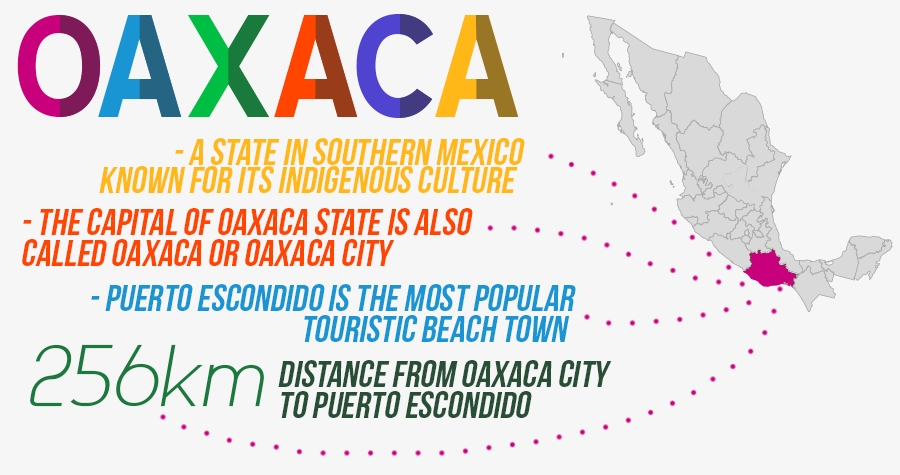 How to Go From Oaxaca to Puerto Escondido by Bus and Plane
If you're reading this post you're probably planning on going from Oaxaca to Puerto Escondido (or in reverse – Puerto Escondido to Oaxaca). If so, you're in luck. I just did this trip both by bus and by plane.
I'm sure that you've already done your preliminary research but just to be clear, Oaxaca is the state and Oaxaca City is the capital of the state. In this post, when I say 'Oaxaca', I am actually referring to the Oaxaca City. The small coastal/beach town Puerto Escondido is 256km south-west of Oaxaca City.
Please note that the information and prices in this post are based on my trip from December 27th 2016 to January 6th, 2017. The post gives you my experience traveling between the two cities and my personal recommendation on how to do it based on your budget.
Now let's get down to the real information…
There are a few options if you want to travel between Oaxaca and Puerto Escondido. My preference is flying, but let's go through your options. The summary below is a bit of a spoiler, but it shows the cost and time of each transport option.
How long does it take to go from Oaxaca and Puerto Escondido? And how much does it cost to go from Oaxaca to Puerto Escondido?
ADO Buses from Oaxaca to Puerto Escondido – Minimum Cost 250 pesos ($25USD); Time 10 hrs
Camionetas (Small Minibuses) from Oaxaca– Minimum cost $200 pesos ($20USD); Time 7 hrs
Small Planes from Oaxaca to Puerto Escondido – Minimum cost $1700 pesos ($85USD); Time 25 minutes
Bicycle from Oaxaca – 2+ Days depending on your physical condition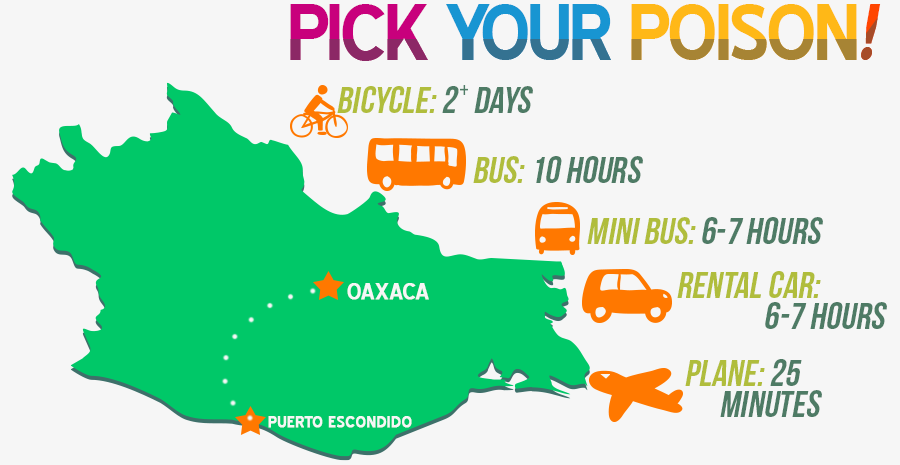 Taking a Bus from Oaxaca City to Puerto Escondido
There are basically two options if you want to take a bus from Oaxaca to Puerto Escondido. You can take the big comfortable ADO buses or the smaller camionetas (mini-buses). They both have their advantages and disadvantages depending on the time and money you have budgeted for your trip.
A word of caution: If you're taking a bus, whether it's the deluxe ADO or a basic camioneta, expect the unexpected. By that I mean give yourself a buffer of time just in case something happens on the highway (especially if you're on the way back to Oaxaca to catch a flight).
Taking the ADO bus from Oaxaca to Puerto Escondido
The big ADO buses take about 10 hours to get from Oaxaca to Puerto Escondido. Most travellers take the overnight bus. They leave at 9:30pm and arrive to the beach the next morning around 7am. The main advantages of taking the big ADO bus is that they are much more comfortable, they have bathrooms on board, and you can save money that you would otherwise spend on a hotel room by travelling overnight.
Although I didn't take the ADO bus on this trip, from past trips I can say that they are very modern and comfortable. Based on a search I did on the ADO website, it appears that there are 4 departures daily.  The cost of the ADO bus from Oaxaca to Puerto Escondido is between $266 pesos to $355pesos depending on your departure time. As mentioned earlier, most people tend to take the 9:30pm bus because it doubles as a hotel room since you travel by night. For that reason this time slot is the most expensive and sells out pretty quickly. I recommend buying your ticket at least 24 hours before to avoid disappointment.
The ADO website allows you to prebook your seat using debit or credit card. However, if the online booking doesn't work, just ask where the ADO bus station is and buy your ticket directly from them.
Video of flight from Puerto Escondido to Oaxaca City with AeroVega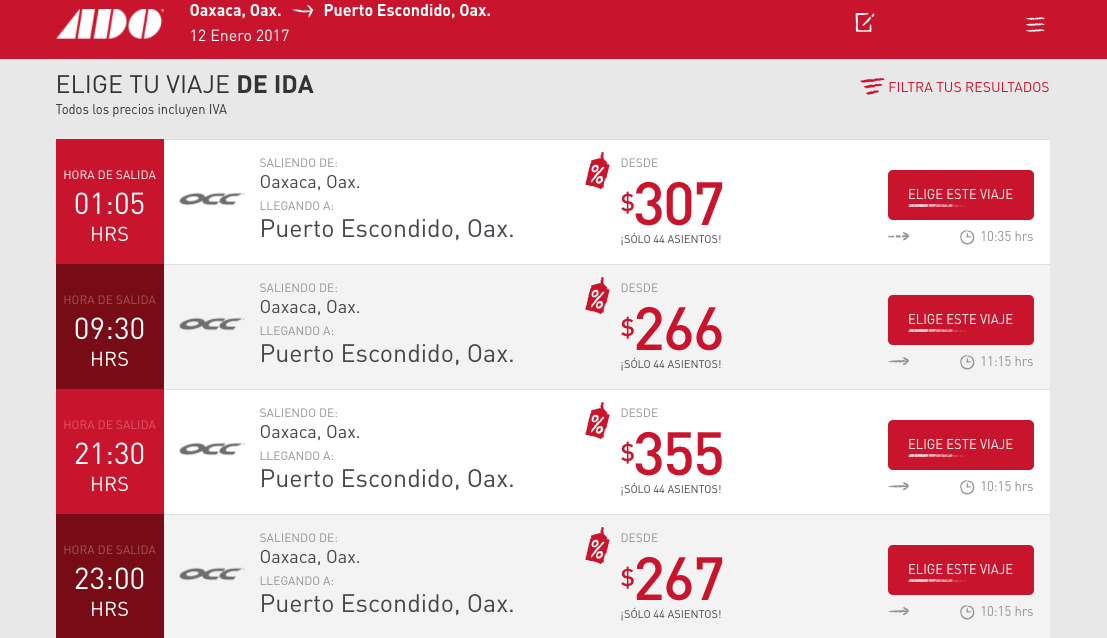 Taking a Camioneta Bus from Oaxaca to Puerto Escondido
Taking a smaller mini-bus from Oaxaca to Puerto Escondido is your second option. The advantage of taking these buses is that you can arrive faster and they give you more departure times than the ADO buses. The trip from Oaxaca to Puerto Escondido by camioneta will take you approximately 6-7 hours depending on traffic.
The obvious disadvantages are: there is no bathroom on board and they can get pretty crowded and stuffy.
Transportes Villa del Pacifico Bus Schedule: This company has camionetas (mini-buses) that leave from Oaxaca to Puerto Escondido once an hour. The first bus leaves at 3:30 am and the last bus leaves at 11:00pm. The bus schedule from Puerto Escondido to Oaxaca is the same. See a photo of the bus schedule I took on December 29th, 2016.
Address: Galeana 322, OAX_RE_BENITO JUAREZ, Centro, 68000 Oaxaca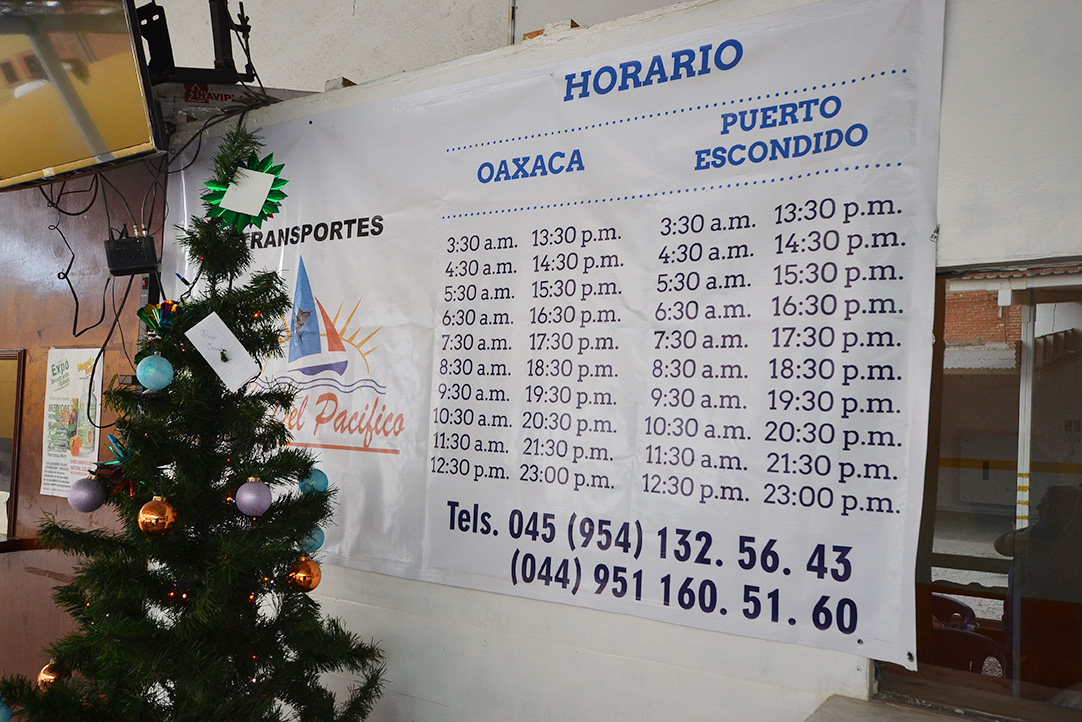 Transportes Villa del Pacifico – Bus Schedule Oaxaca to Puerto Escondido
I decided to take this option since I was told that it would take about 3-4 hours less than the ADO bus. As luck would have it, I traveled on a day when there was a religious procession taking place. People were doing a religious pilgrimage along the highway – some running and others biking. Every time our bus came up behind a group we had to come to a near complete crawl before carefully passing them.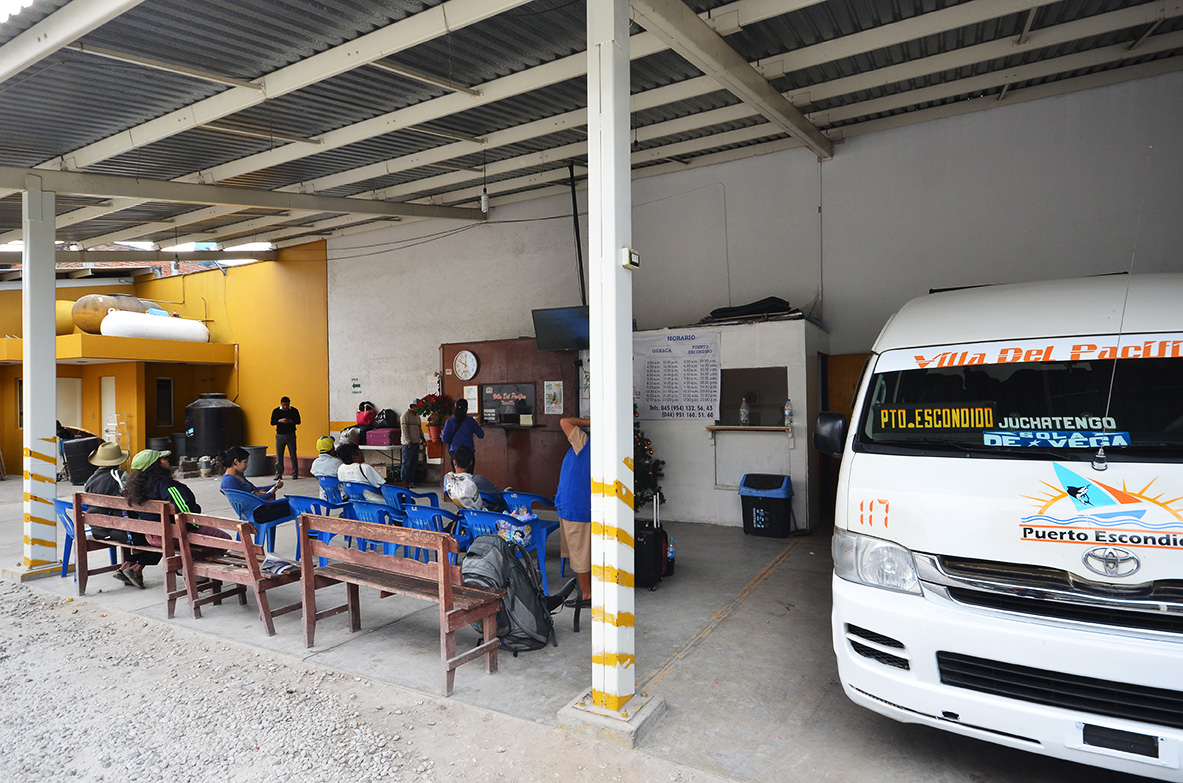 Waiting for the camioneta to Puerto Escondido
The Transportes Villa del Pacifico waiting area is very basic – blue plastic chairs, a flat screen TV and two ticket booths. If you need to get water or snacks for your trip, there is a small pharmacy and variety store across the street.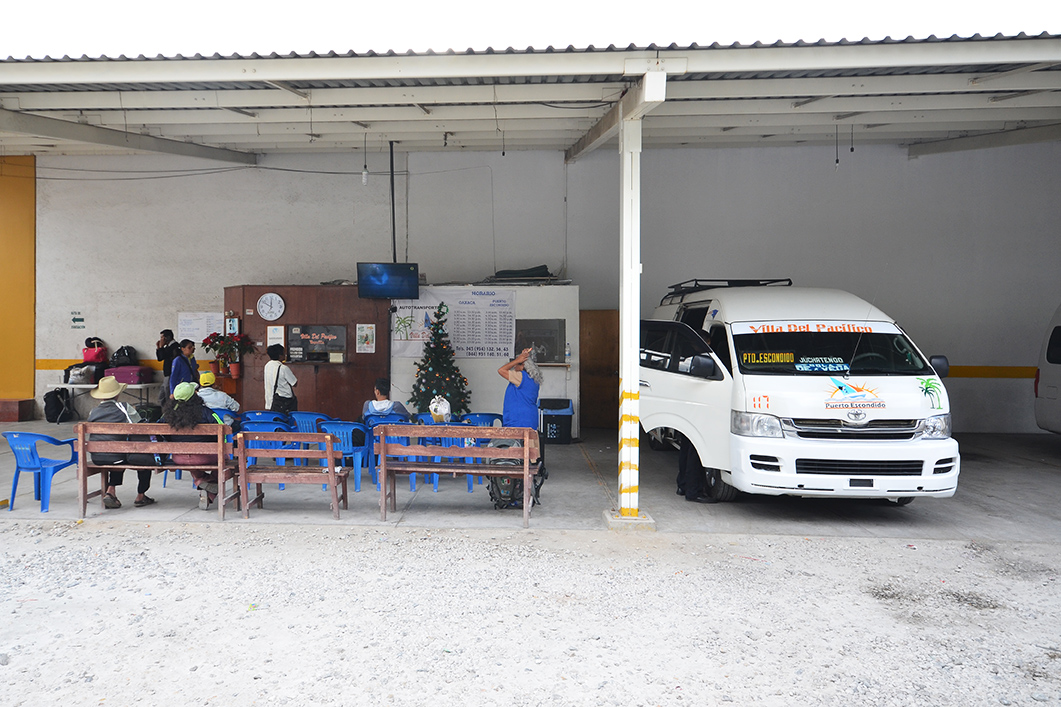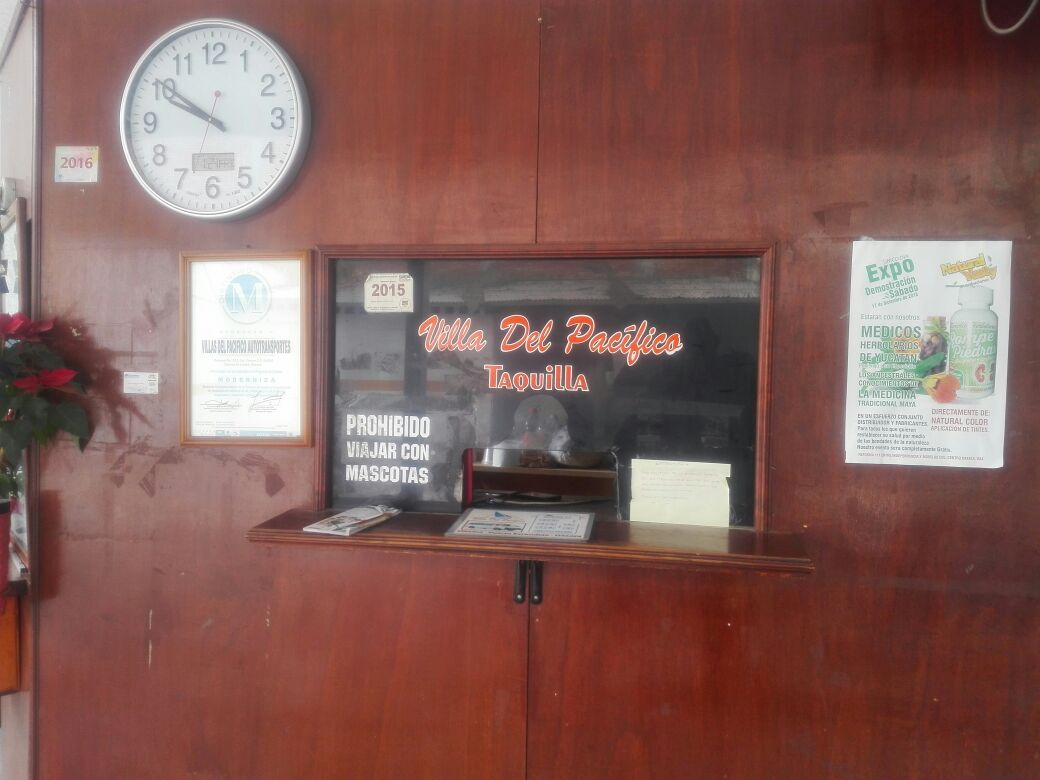 We made a few stops along the way to drop off and pick up passengers. Additionally, we made one 30-minute stop to use the bathroom and to buy food and snacks. After the food stop I drifted off and fell asleep for the first time. When I woke up we were stopped at a roadside vulcanizing shop where the bus was being jacked up. According to the driver, the bus's handbrake was failing. Although I wasn't happy that we were losing time, I was very thankful that were stopped to fix the brakes. 45 minutes later we were back on our way…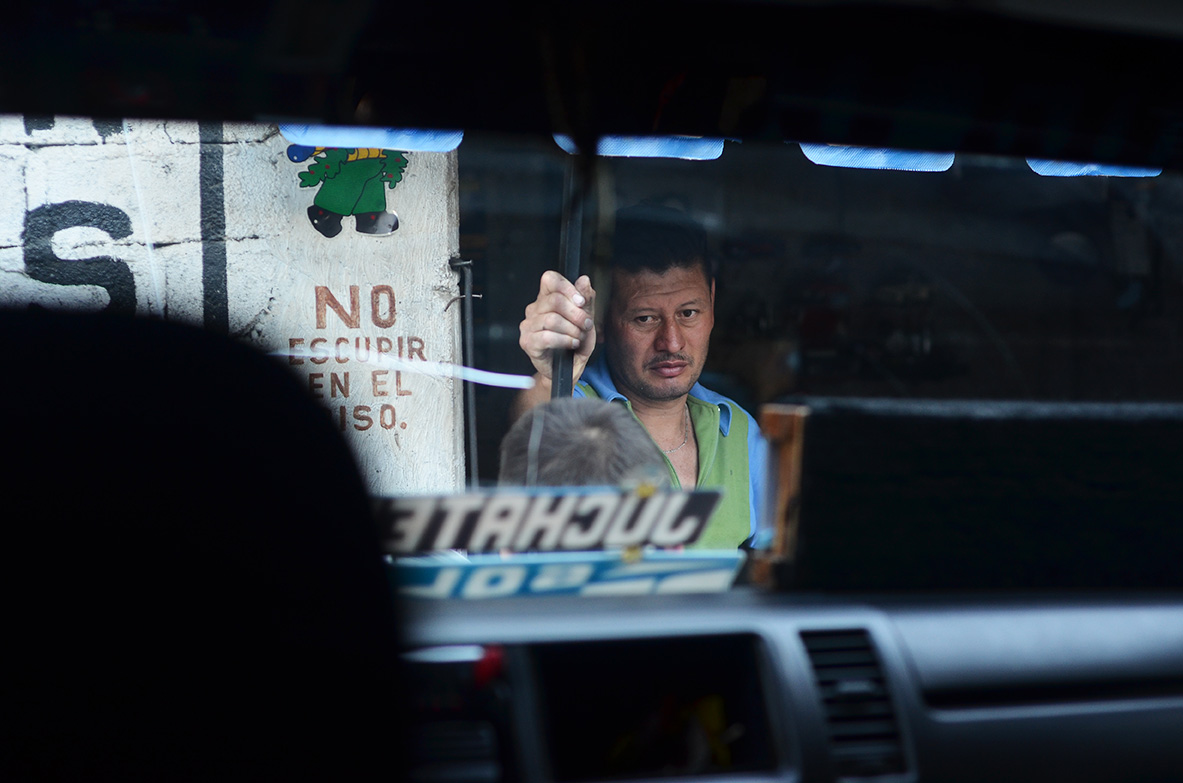 The mechanic who fixed our hand brake
Instead of taking the promised 6 hours, we ended up taking about 9 hours. We basically wasted a complete day of our trip sitting on a bus. If you're on a long trip then 9 hours probably isn't a big deal, but if you're on a 1 or 2 week vacation, 9 hours can be an eternity.
If you get motion sickness, I suggest that you take a Dramamine or Gravol pill since the journey is quite bumpy with twists and turns as you go through the mountains.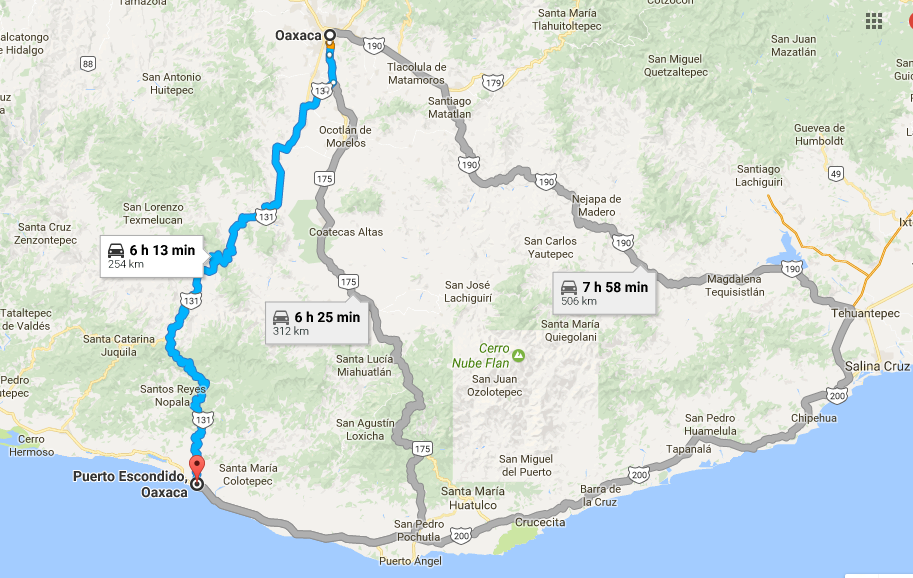 Driving from Oaxaca to Puerto Escondido
Had I known that flying from Oaxaca to Puerto Escondido was so easy, I would have avoided taking the bus altogether.
Flights from Oaxaca to Puerto Escondido
Flying from Oaxaca to Puerto Escondido can be a bit complicated and expensive if you use the popular search sites like Expedia, Sky Scanner and CheapOAir. Expect to pay anywhere from $200-$500USD to fly on airlines like InterJet and AeroMexico.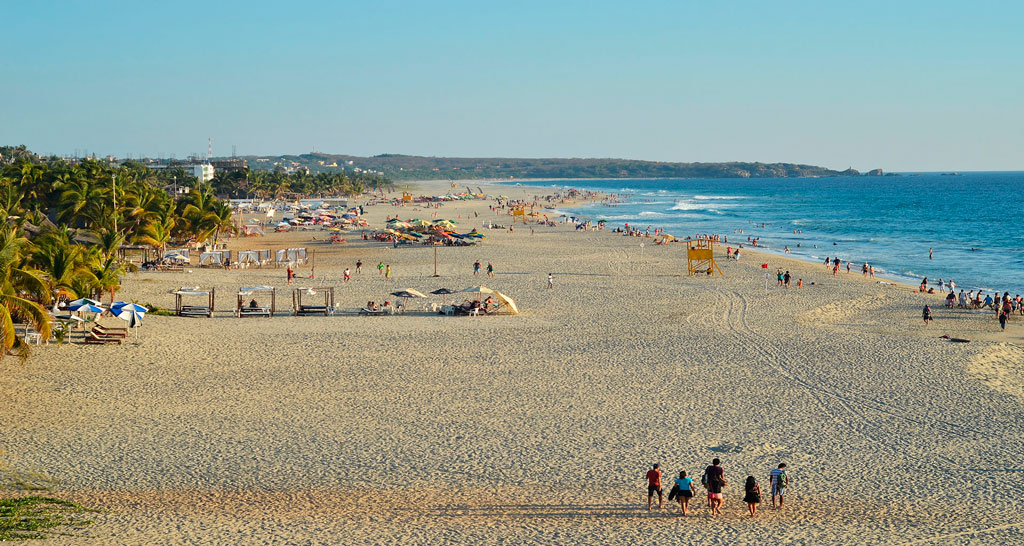 Once you do a search you will notice that most major airlines that fly this route go through Mexico City to get to Puerto Escondido. If you look at a map of Mexico you will see that by going through Mexico City, you will be backtracking up North from Oaxaca City instead of going a short distance south to Puerto Escondido.
With that being said, if you have the budget for a flight, it sure beats sitting on a bus for anywhere from 6.5 hours to 12 hours – especially if you suffer from motion sickness or stomach problems.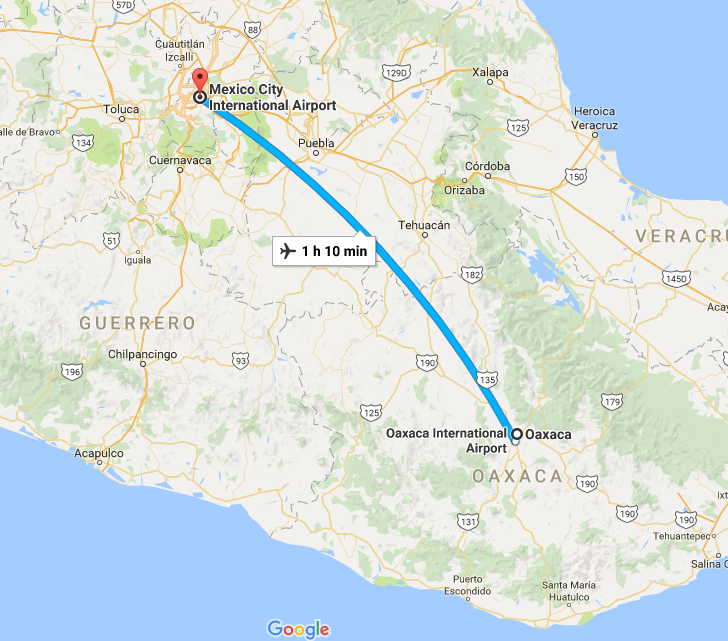 Cheap flights from Oaxaca to Puerto Escondido – Cessna Planes and Beautiful Scenery
After going through the torture of sitting in a mini-bus for 9 hours, I decided that once my stint on the beach was over, I needed to take a flight back to Oaxaca. I found out that are cheaper and faster options to fly between Oaxaca and Puerto Escondido. There are a few small airlines and private individuals who make daily flights between the cities using small Cessna planes. The most popular of these airlines is AeroTucan. AeroTucan has a counter in the Oaxaca City Airport and the Puerto Escondido Airport. You can purchase your tickets directly at these counters anytime before your flight.
Although flight prices with AeroTucan may change depending on the time of year, I was quoted $2095 pesos for a one way flight from Puerto Escondido to Oaxaca City. That is just about $110USD for the one-way trip.
Because these planes are small, seats sell out quickly during high season – trust me I couldn't get a flights for 3 days.  So once again to avoid disappointment, I suggest pre-booking your flight a few days in advance.
AeroTucan has a website that shows availability and prices, however, it is best to call them directly or go to their counter at the airport for more reliable information. When I checked online, the website said that there were zero seats available, but when I called them, they said they had 2 seats available for the same date.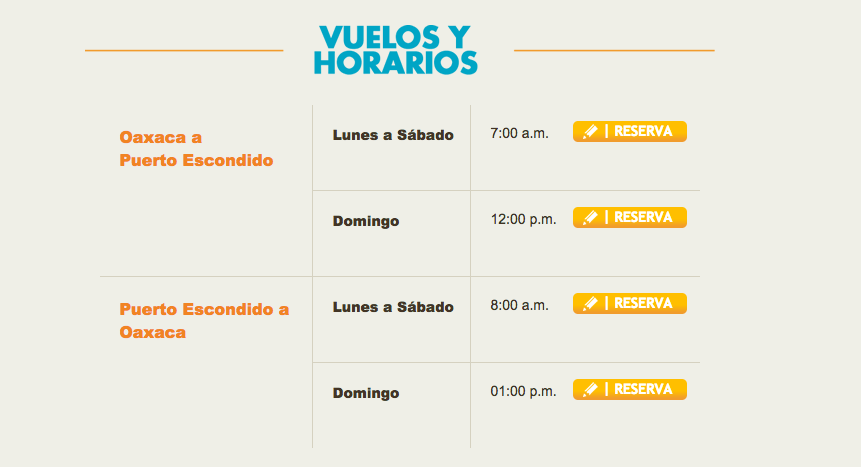 AeroTucan flies once a day from Oaxaca to Puerto Escondido and once a day from Puerto Escondido to Oaxaca.
Aero Tucan Flights From Oaxaca to Puerto Escondido
Monday to Saturday: 7am
Sunday: 12pm
Aero Tucan Flights from Puerto Escondido to Oaxaca
Monday to Saturday: 8am daily
Sundays: 1pm daily
Flying from Puerto Escondido to Oaxaca with AeroVega ( Don Vega) – My Personal Recommendation
Cost of Cessna Flight with AeroVega: $1700 pesos ($85 USD)
Contact Don Vega in Puerto Escondido: aerovegapto@gmail.com or +1 044 954 588 0062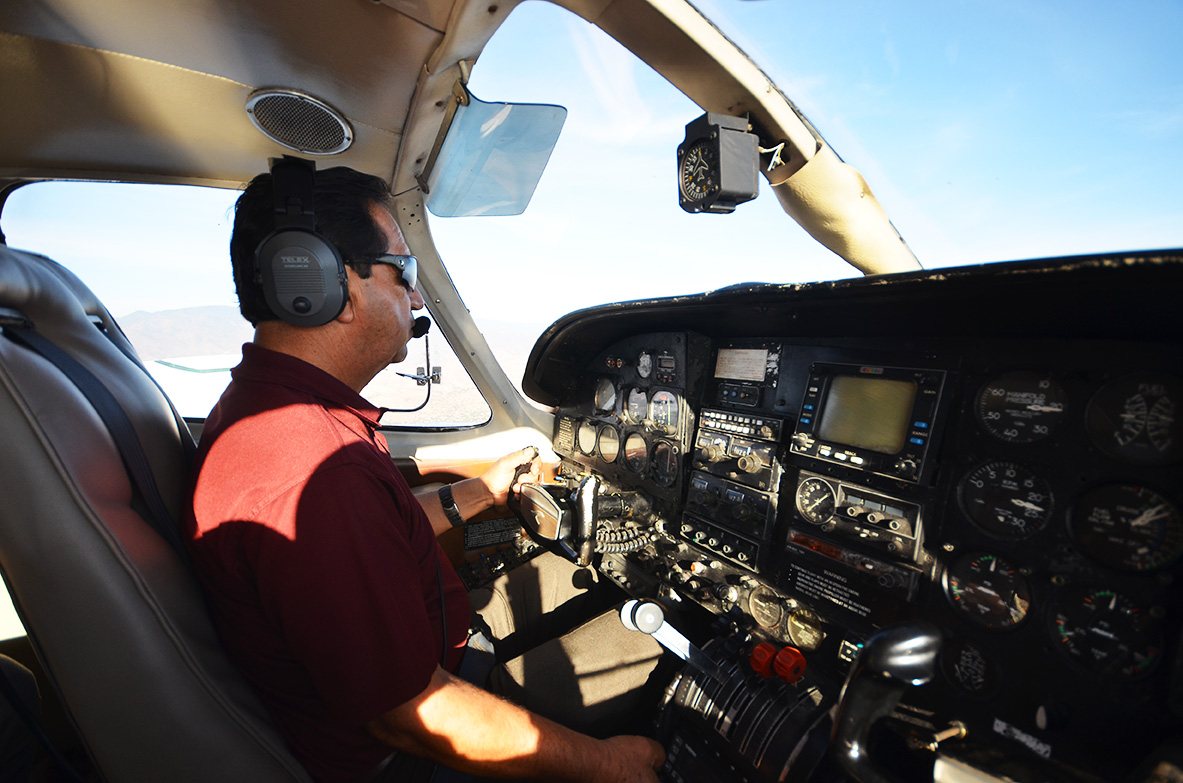 Since all the AeroTucan flights were sold out, I decided to dig a little deeper online. Consequently, I found a blog written by a travel blogger who had taken a private Cessna plane with a guy called Captain Vega. She claimed to have had a great, stress free experience flying with the captain on his 6-passenger plane. I followed her guidance and did exactly as she said. I ended up flying with CapiVega from Puerto Escondido to Oaxaca.
My Experience with Don Vega and his Cessna Plane
I contacted Don Vega using the phone number provided on the blog. Much to my surprise, it was his real cell phone number and it was still in use.
Although I spoke to the captain in Spanish, he also speaks great english, so if you don't speak Spanish, this isn't a problem. I asked him if he had any availability for January 3rd and he said he was fully booked. However, he had 3 spots left for January 4th and the cost was $1700 pesos ($80USD). Without hesitation I said I would take two spots on that flight (since I was traveling with a friend of mine).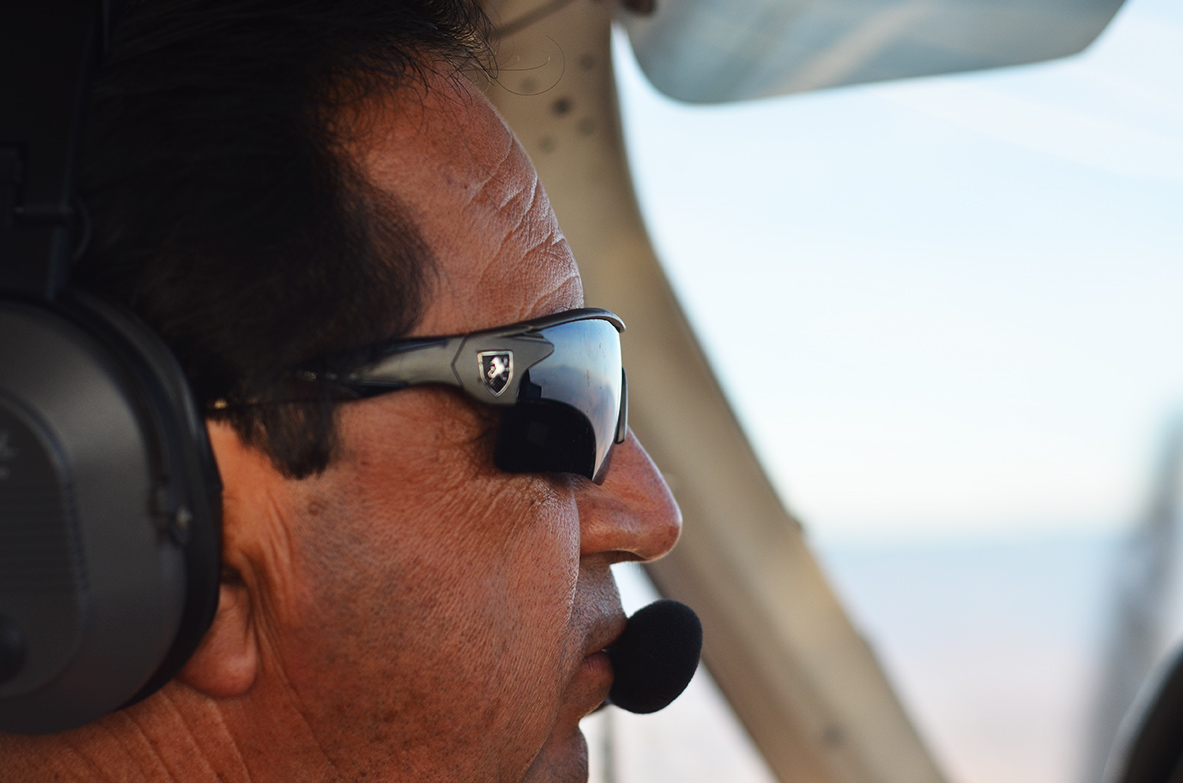 The captain took my name, my friend's name and the name of the hotel where we were staying. He instructed us to be at the Puerto Escondido Airport at 7:30am on the 4th. He didn't ask for a deposit or a copy of our identification. All he asked was that we show up. This made a bit nervous because I didn't have a confirmation number or reservation code – just the word of a guy on the phone.
In the spirit of being a true Canadian, I took some additionally cautionary steps. I went to the airport the day before my flights to ask the airport staff if they had ever met the captain and where he usually meets his passengers. They all told me not to worry because the captain always shows up and meets his passengers in front of the little cafe/eatery in the airport. To push things a little further, I asked someone from ticket sales at the airport to call the captain – just to confirm my booking. Everything checked out – the captain answered the phone and said that he had two spots reserved in my name.
Just to be absolutely anal, I sent the captain an email (aerovegapto@gmail.com) with my details and confirmed that I would be there on Wednesday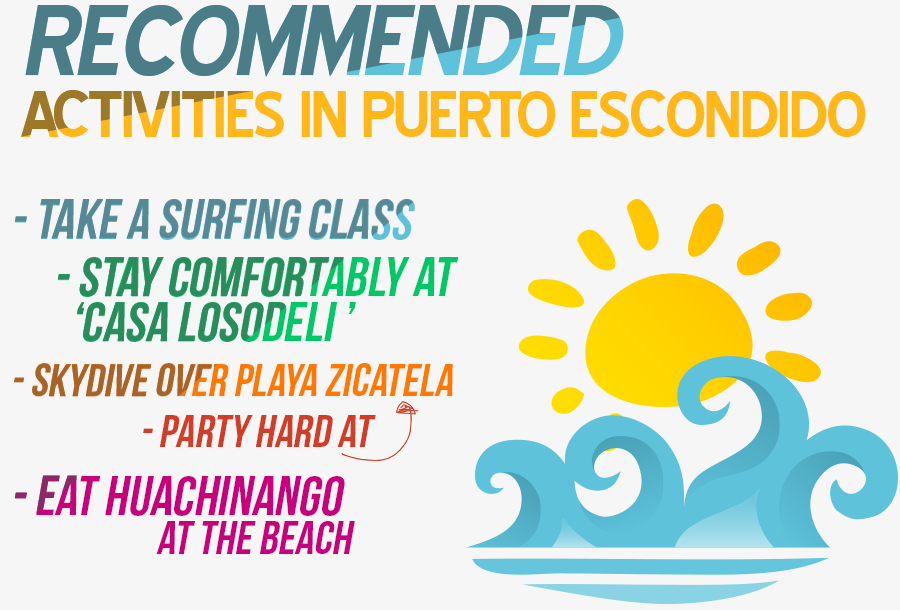 On the morning of the 4th we showed up at 7am to wait for the captain. He walked into the airport at 7:20 and approached us with a clipboard in his hands. He asked "Eres Joel?" (are you Joel). I shook his hand and introduced myself. He asked me to write my name on a form that he had attached to the clipboard. He didn't ask for ID or payment. Instead he instructed us to wait in front of a little door while he rounded up the other 3 passengers. 10 minutes later he returned with an elderly couple and a woman in her 40's. From the way they were chatting, it seemed as though they had traveled with Capi Vega before.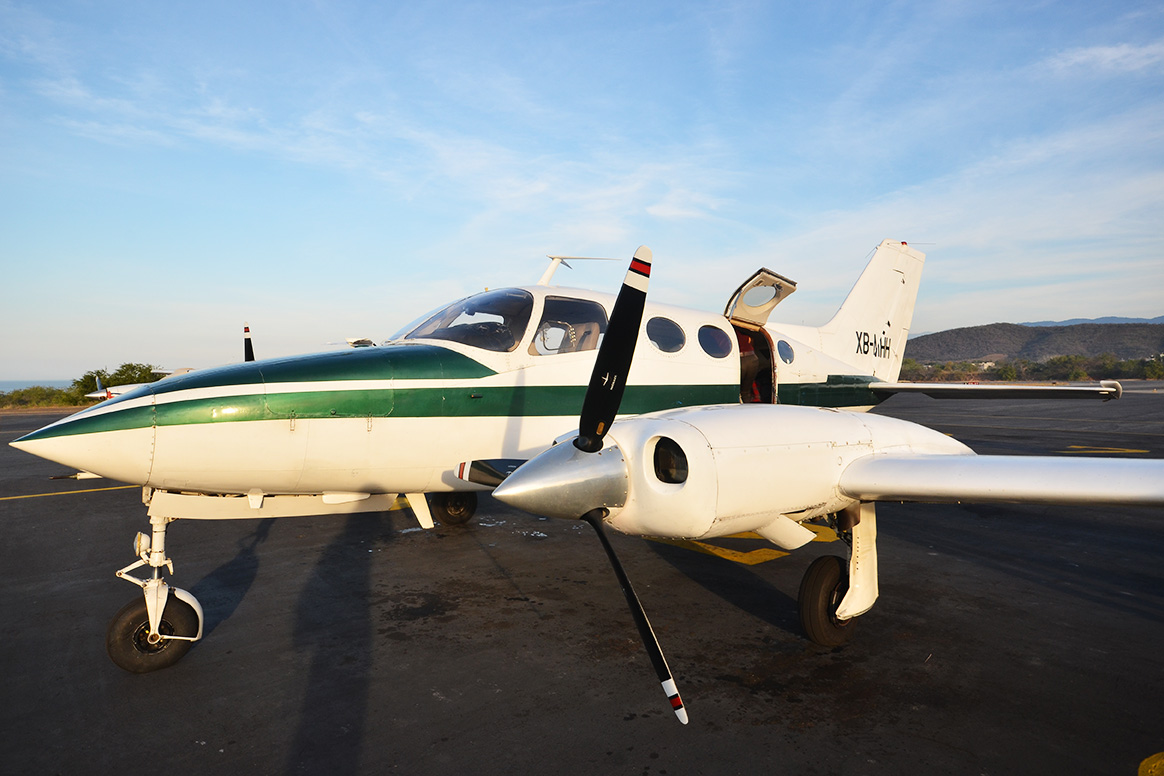 Minutes after, we walked through a small door labeled "C" with all of our bags. A guard gave everyone a quick pat down but didn't check or scan our luggage. We then walked onto the tarmac and headed right to Mr. Vega's green and white Cessna.
I told the captain that I am a photographer and he asked me if I wanted to sit upfront with him in the other pilot's seat. Naturally I obliged and took my place beside him, happy as a kid in a candy shot.
At 7:50 we were racing down the runway headed for Oaxaca City.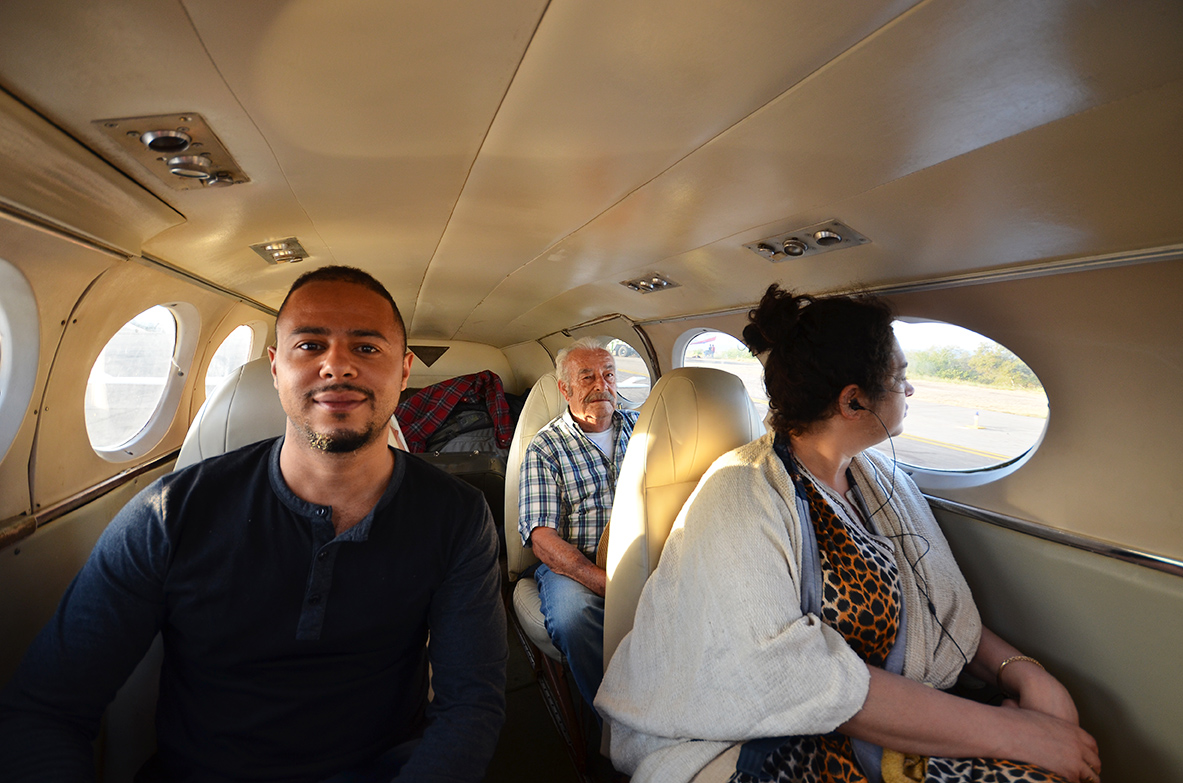 Inside CapiVega's Cessna Plane before takeoff
Don Vega we nice enough to fly over Playa Zicatela so we could get a view from above, then he did a little circle around Puerto Escondido. After that was headed towards the mountains. I was able to snap a few really nice photos from the window of the mountains and dramatic sky.
If you've never been on a small plane this will be quite the adventure and experience. Most of the flight is very smooth, but there are points where the plane hits air pockets. We hit about 2 minutes of turbulence where the plane made some small dips and shifts from left to right. If you are really afraid of flying, this might not be the best option from you.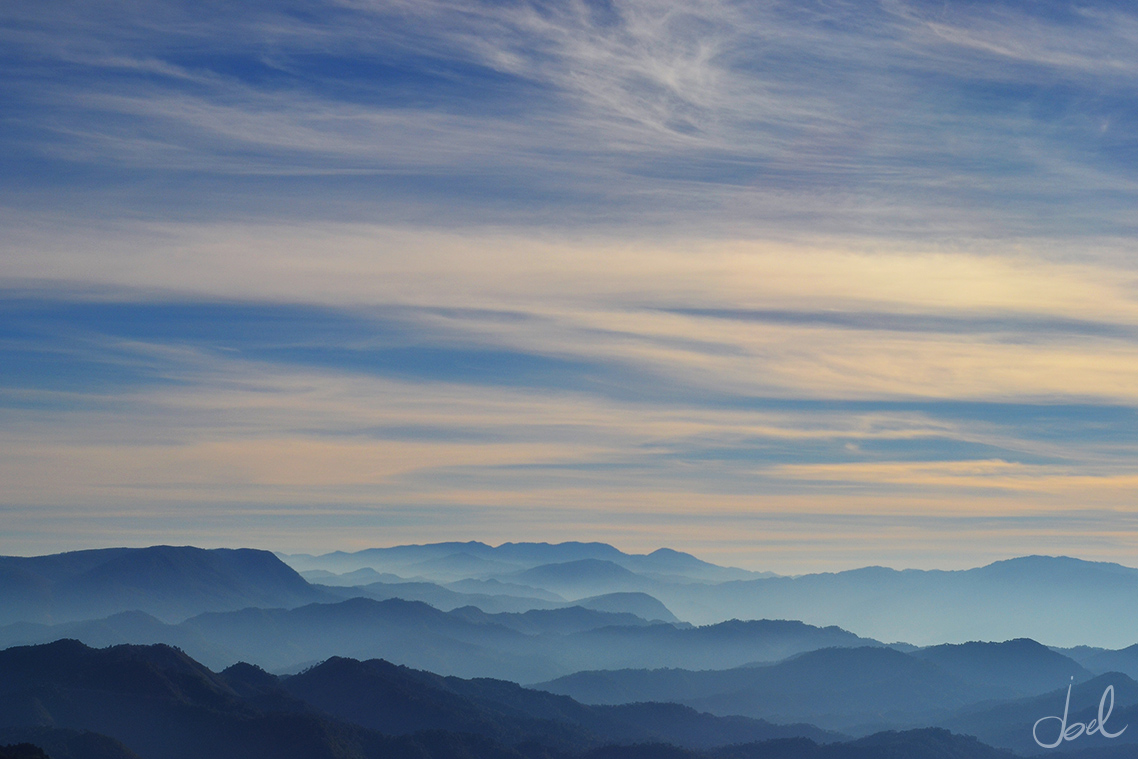 View from the cockpit of CapiVega's Cessna
As promised, we touched down 25 minutes later at the Oaxaca City airport. We took our bags off the plane, walked into the airport, paid the captain $1700 pesos each and said our farewells.
If you have the additional 1700 pesos ($85) dollars to spend on a flight, I highly recommend flying from Puerto Escondido to Oaxaca with Don Vega. You will save valuable hours of your life and avoid the discomforts that come with taking a bus through the mountains.
Biking From Oaxaca To Puerto Escondido – The Ups and Downs
A cycling trip from Oaxaca to Puerto Escondido is not too arduous. There's a bit of uphill/downhill, but it's hardly the north face of the Eiger and unless you are exceptionally prone to altitude sickness, that shouldn't be a problem either.
You have a simple choice between the relatively fast Highway 175 and the less well-tended but more direct 131.
Either way you'll be going up for a while before descending to sea level.
For bikes, 131 is perfectly adequate, and if there is dirt and dust involved rather than a long, unbroken swathe of the smooth, black, hard stuff, well, you're in the Mexican countryside, not some man-made  urban landscape. You're going to see vegetation that thrives in hot places: more agaves than you ever imagined, hardy trees that owe nothing to the pampering of gardeners, villages that show you're not just anywhere, you're in Oaxaca .
You can stop where you please and get something to eat that you won't have had anywhere else, and, as this is at least a two-day trip, you will be requiring somewhere to sleep. If you are camping, the locals along the way will tell you the options, and if you'd rather have four walls and a proper roof over your head, even if there is nothing advertised, there will more than likely be someone who will oblige.
There are organized bike tours too, with equipment supplied and support services, but if you're determined to do it yourself, at least the area includes the occasional bike shop where you can get what you need.
Renting A Car and Driving From Oaxaca to Puerto Escondido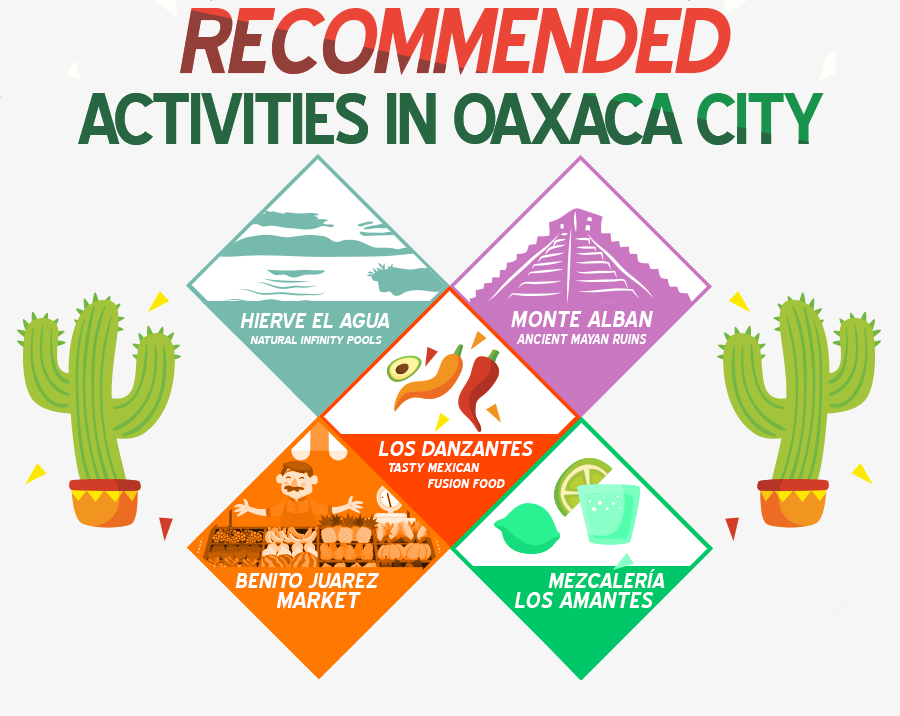 If cycling isn't your thing but independence is, although you got to the region by other means, you can rent a car in Oaxaca. There are companies based in the city, and of course, where there are airports there are rental cars and one way or another you will find the usual names (Hertz, National, Budget etc.).
Once fixed up with your trusty four-wheeled steed, you will no doubt ask the rental staff the best way to get from Oaxaca to Puerto Escondido, and they will tell you Highway 175 is the best road but Hwy 131 is more direct. Neither one is pool-table smooth, but in daylight, the careful driver should have no real problems.
Note that: daylight. After dark it is harder to spot the rough patches, and you may also have stray pedestrians and carefree/reckless motorists to contend with, so do it by day. It only takes six or seven hours, anyway, so even with a leisurely start to the day, you should be there comfortably by late afternoon.
Such a schedule allows plenty of time for stopping for lunch and rest breaks with a cool drink, which bring you into contact with the people and the cuisine, both of which add to the experience.
Have you done this trip recently? If so, please feel free to share your experience and opinions in a comment below.