For a luxurious and all-inclusive stay in the stunning natural surroundings of Alaska, try one of the following wilderness Anchorage lodges. While situated in remote settings and national parks, these lodges are accessible by plane or car from Anchorage (travel included with some lodging packages).
Mush into the Wilderness at Winterlake Lodge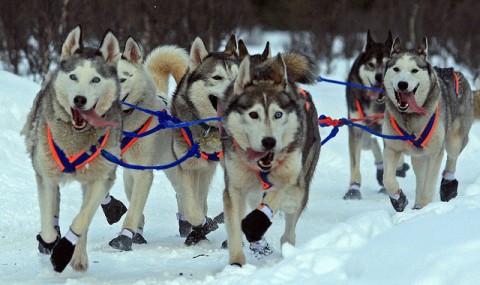 Image via Flikr by Alaskan Dude
Ideal for travellers who don't want to sacrifice luxury for backcountry scenery, this lodge offers private cabins, free massage service, cooking classes, and a hot tub with a view of the Tordrillo Mountains. All meals and snacks are free during your stay at Winterlake Lodge.
On the Iditarod Trail and in the shadow of Wolverine Mountain, this lodge offers multiple outdoor excursions, including helicopter-assisted hiking, and sled-dog tours. This lodge is accessible from Anchorage by floatplane or ski-plane.
All-Inclusive Fly Fishing Adventures at Wilderness Place Lodge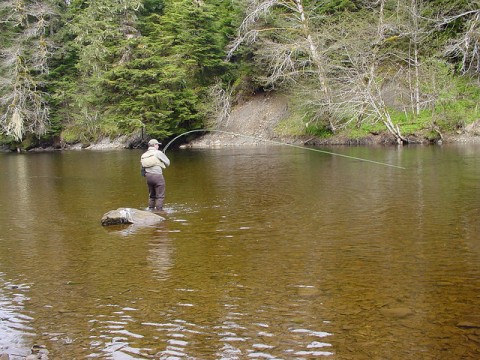 Image via Flikr by bdeseattle
A short seaplane flight from Anchorage, this lodge offers some of the most personalized fishing excursions in the state with one staff member per guest. Lake Creek, the home river of this lodge, offers abundant salmon and trout fishing and guests design their own fishing itineraries. Guests staying at Wilderness Place Lodge can pack light—all fishing gear is provided for free. Additionally, all meals, beer, and wine are complimentary.
Bear Sightings at Katmai Wilderness Lodge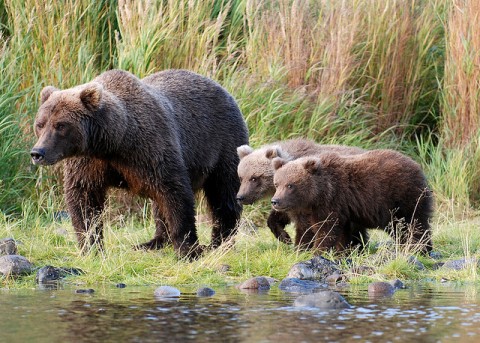 Farther from Anchorage than other properties on this list, the eco-friendly Katmai Wilderness lodge is accessible by plane via Kodiak. Well worth the longer trip, guests enjoy guaranteed bear sightings on the tidal flats near the lodge where large groups of bears regularly gather. The log cabin lodge offers seven guest rooms, while common areas include a dining room, living room, and multi-level deck. This lodge is open during the summer months only.
Luxurious Kenai Princess Wilderness Lodge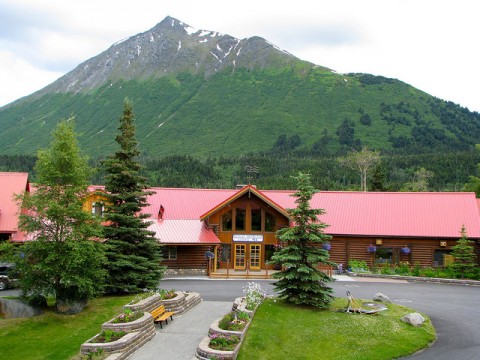 Image via Flikr by howderfamily.com
Well-appointed rooms with stunning mountain and water views continue to attract travellers to this lodge, nestled on the banks of the Kenai River. The luxurious guest bungalows offer vaulted ceilings, a wood burning stove, and a private porch, while the main lodge features an espresso bar and two restaurants. If you manage to tear yourself away from the comfort of the lodge, arrange a plane tour or a gold panning excursion on site.
Gourmet Dining at Kenai Fjords Glacier Lodge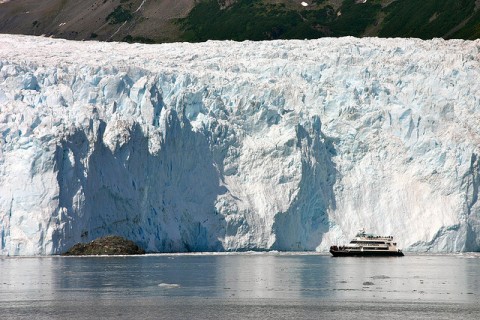 Image via Flikr by Phillip Morton
Accessible by boat only, this secluded lodge in the Kenai Fjords Glacier National Park is sure to provide guests with a peaceful experience. Gourmet meals, sightseeing decks, and a bar area add to upscale atmosphere of the main lodge. The private cabins, built with the natural landscape in mind, connect to each other by a network of board walks and are minimally visible from the nearby Pederson Lagoon. Exploring nature is as easy as walking out of your cabin, but for more adventure, kayak with harbor seals or try a marine cruise.
With pristine natural wildlife on the doorstep of each of these lodges, don't forget to pack your sense of adventure and your camera.
Author Bio:
A former video-journalist and news anchor, Tammy is now a freelance travel writer. Tammy has written editorials for more than 2,000 hotels and has travelled across Canada and the United States. When she's not scouring the web for the best travel experiences, Tammy can be found running with her dog or organizing her next book club meeting.