For year-round good times in sunny weather, Clearwater Beach, Florida is the perfect destination. Located on the Gulf of Mexico, this beach offers amazing views, vibrant nightlife, and the ultimate in vacation relaxation. Whether it's a sunny resort, a luxurious spa, or a trendy boutique hotel you're looking for, Clearwater Beach has it all.
With such a wide variety of Clearwater Beach hotels and resorts in the area, it's difficult to find the one that best fits your needs. Here are the top places to stay in this amazing city on any budget.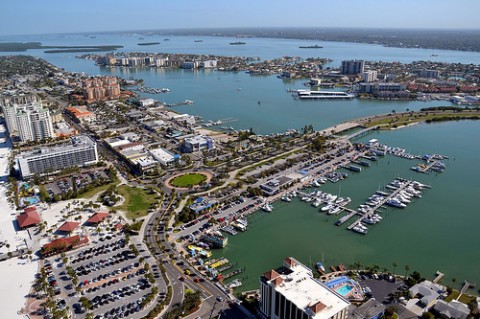 Image via Flickr by Walterpro
Sandpearl Resort at Clearwater Beach
The world-class Sandpearl Resort offers a full-service spa, an award-winning restaurant, and a private stretch of sandy beach. For those who are looking for the epitome of luxury and relaxation, this is the place. When you vacation at this resort, you'll really have no need to go anywhere else. They offer educational programs, a day camp for kids, a restaurant, a bar and lounge, and shopping, all on-site. Depending on what size room or suite you need, the rates vary between $300 to over $750 per night. Although the price of an average stay at this resort is one of the highest in the area, it's definitely worth every penny.
Pier House 60 Clearwater Beach Marina Hotel
Pier House 60 Marina is quickly becoming a Clearwater Beach landmark. Located right in the heart of Clearwater Beach Island, this hotel is close to everything. On the 10th floor, the hotel features a heated pool and a bar, Jimmy's Crow's Nest, that's perfect for watching the sunset. They aren't directly on the beach, but it's just across the street. The hotel offers a variety of rooms, depending on the size and the view, starting at $179 a night.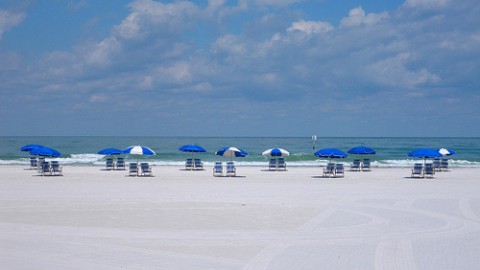 Image via Flickr by dno1967b
Parker Manor Resort
This is another resort that isn't right on the beach, but is in the middle of everything. Parker Manor Resort looks like how you'd picture a traditional island hotel. It has wrap around porches and boat slips for guests. Although the beach is only a short two block walk, with their large, heated pool, fishing pier, barbecue grills, and tiki huts for shade, you might not want to leave. Parker Manor Resort offers one and two bedroom apartment style suites. On average, a night at this resort starts at $125.
Camelot Resort
If you're on a tight budget but don't want to sacrifice quality, take a look at Camelot Resort. It's a small boutique hotel that offers clean, spacious rooms at an affordable price. Although they don't offer many of the upscale amenities that you'd find at the larger (and more costly) resorts, Camelot Resort offers a feeling of small town friendliness and they treat their guests like family. They're close to the beach and have a beautiful pool area and several private sun decks. Depending on the size of room you need, rates here start around $125.
Clearwater Beach is an extremely popular vacation destination. During the peak vacation season these resorts fill up quickly. Make sure you plan your trip in advance.