It's hard to believe that it's 9pm on a Monday night and yet there is so much action coming from the open-air Tree Bar at the Happy Buddha Hostel.
Tonight the rest of the street in Medellin's swanky Provenza neighbourhood is relatively quiet yet constant laughter, lively conversation and trendy tunes flow out from the terrace bar and onto the street below.
In the artistically decorated lounge,  a group of friends from Argentina are completely consumed by their booze-fuelled ping-pong tournament, while two best friends from Canada duke it out on the adjacent pool table.
Across the room, a sudden outburst of loud screams grabs everyone's attention as the large wooden pieces from the giant jenga set hit the tiled floor.
Passersby can't help but to look up curiously at the packed bar and wonder what all the buzz is about. But it isn't a special event, this is what the bar is like every Monday night and most other nights of the week.
There's something happening every night at the Tree Bar
Located in the ultra-chic Happy Buddha Boutique Hostel, which currently sleeps 103 guests, the airy Tree Bar always has at least a few groups of sociable travellers mixing and mingling come nightfall.
Despite the fact that the bar is in a hostel, its patrons are both foreigners and fun-seeking 'Paisas' alike.
Tree Bar boldly claims to have Medellin's Best Happy Hour from 5-7pm daily.  Customers enjoy 2-for-1 cocktails (10,000COP/$5USD) and big buckets of ice cold beers (6 for 15,000COP/$7.50USD).
For something a bit more adventurous, be sure to try the bar's specialty cocktail,  Jungle Juice, a strong fruit punch spiked with rum and vodka.
Other than the daily happy hour, there is a great lineup of events happening every night at the bar, making Happy Buddha the perfect hostel for anyone who loves being social and meeting new people.
The Weekly Lineup – Colombian Welcome Dinner, Salsa, Beer Pong, and Much More
Each week the bar hosts entertaining live performances by local bands and DJ's.
On mondays it's the Colombian Welcome Dinner that draws guests out of their rooms and onto the balcony for a free BBQ of burgers and hot dogs (starting at 8pm). This weekly event gives guests the perfect opportunity to get to know the other travellers staying at the hostel.
On Tuesdays it's the FREE beer pong tournament with cool giveaways like hats and t-shirts to be won.
Wednesday is my favourite night – Salsa & Shots. Everyone is welcome to the bar for a FREE 2-hour salsa lesson and complimentary shots to anyone who chooses to participate in the lively class.
If you've intimidated by the thought of dancing salsa for the first time or you think you have two left feet – No Problem.
Just about everyone who takes the class is a novice. It's a chance to take your first class instructed by pair of professional colombian salsa dancers, while getting to know other travellers and Medellin locals.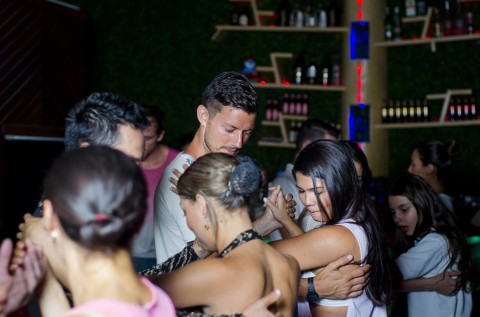 Thursdays is Dress Code night, but not in the traditional sense. No fancy shoes or suits are required. It's a costume party – anyone who wears a costume to the bar gets Happy Hour prices all night until the bar closes.
"It's part of our job to give FREE SHOTS to anyone who participates in drinking games" – Happy Buddha Staff
On weekends, the action at the bar gets cranked up another notch. Friday night is the Paisa Party which features a mix of popular crossover music and free shots for anyone who dances Coyote Ugly style on the bar.
Saturday nights are dubbed Gin & Juice, like the famous 90's Snoop Dogg rap hit. It's a bumping hip-hop, reggae and reggaeton dance party where once again bar-top dancing for free shots is strongly encouraged.
The bar is opens from 5pm to 12pm on weekdays and until 2am on Fridays and Saturdays. Cocktails are 10,000 pesos, national beers are 3.000, and shots are 5.000. The best sellers are cuba libres, margaritas, and mojitos.
Whether you choose to stay at the Happy Buddha Hostel or not, the Tree Bar offers week-long entertainment for anyone who is looking for something fun to do in Medellin.
  Location:
Tree Bar (Happy Buddha Boutique Hostel) 
Carrera 35 #7-108, Poblado Provenza Medellin, Colombia  + 57 (4) 3117744