This post is my personal account of being a Black Traveler in South and Central America.
A few years ago I wrote a post called 'Black Backpackers – Where in the World Are They' .
To date it is one of my most read posts and it has some of  the most interesting and thought provoking comments left by readers. These comments have inspired me to once again put pen to paper…or more like finger to keyboard, to do this follow-up post about being a melanin blessed man on a journey across the Americas.
Taking A Step Black…Oops, I Mean Back 
About 4.5 years ago I began my journey across Central and South America and I made it as far south as Colombia, where decided to settle down.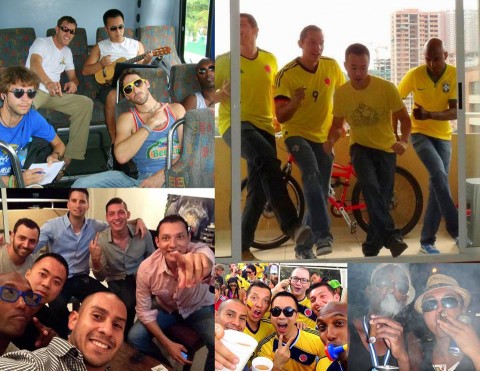 I wrote the first post while laying on a couch in a hostel in Mexico, reflecting on my past backpacking trips to other countries. I noticed a pretty puzzling phenomenon – I was always one of the only 'men of colour' in whichever hostel I stayed in. Okay, let me not try to be too politically correct, it just isn't my style.
What I really mean to say is that I was always the only black guy at my hostel or hotel.
I used to ask other travelers if they had met any other black guys (like me) on their travels and my question was usually met by a long pause, followed by  'coming to think about it – not really' or 'yes there was this one girl named ____ who I met in _____'. Either way, it was a thought provoking question that many may have never thought or cared about.
But not me, nope, I cared.
Black Travel and Money – The Racial Wealth Gap
One of my original theories was that Blacks just don't have as much disposable income to spend on things like backpacking trips like their white counterparts do. I thought about dismissing this theory since I realized that I have many black friends back in Toronto who made more money than I did but never went backpacking.
I decided dig a bit deeper. What I found was a bit alarming but not surprising. According to a report in Business Insider Magazine:
"Among the race groups, Asian households had the highest median income in 2012 ($68,636). The median income for non-Hispanic White households was $57,009, and it was $33,321 for Black households. For Hispanic households the median income was $39,005," according to the report (the levels were not statistically significant from the 2011 report).
Another report in Forbes Magazine said that a typical white household has 16 times the wealth of a black household.
So does money play a factor? Of course it does. If some households have about $20,000 more than others, I am sure that their ability and willingness to travel will be higher than others with less money.
Because you and I know Blacks that make above average salaries doesn't mean that this can be applied to everyone. In the big picture, there is a huge discrepancy in incomes that can account for the low number of black travelers and backpackers out there.
Being a Black Traveler in Central and South America
One of the questions several people left in the comment section of my first article was – "How do people treat Blacks in Central and South America."
I can't speak about the entire world since I still haven't been to Africa, South East Asia or Europe, but I have travelled extensively through the Central and South America.
Without a doubt, my favourite place to travel has to be Mexico. Whether you decide to go on a long backpacking trip across tequila country or you take a short resort-style all-inclusive vacation on the beach, I would highly recommend visiting Mexico. Why you ask?
From what I see in the media, there is some hostility between Black and Mexican gangs in bordering US states. I am not sure if that hostility exists outside gang life because I've never lived it. I am also not sure what border towns in Mexico are like because I've never been there either.
However, I have been to more than 20 cities in Mexico including Mexico City, San Luis Potosi, Acapulco, Cabo San Lucas, Puerto Vallarta, Oaxaca, Puerto Escondido, Playa del Carmen, Aguas Calientes, San Miguel de Allende, Puebla, Guadalajara, and Cancun.
I always tell black males in particular – we are always very well received by Mexicans. I visited just about every one of those cities on my own. I would go sightseeing and partying alone, but to be honest, I was never really alone. Within minutes of arriving to a bar I would have someone approach me and start a conversation. While walking the streets I would have people come up to me and ask to take photos with me as if I were some sort of star.
On one of my first trips to Mexico I went with my dad. On the first night we went out for dinner to a restaurant on a beach in Puerto Vallarta. Two tables away was a group of about 20 friends having drinks. Before our food came out, our waiter arrived at our table with 4 cold Coronas and said it was from the group who was already signalling for us to join them. We walked over and they started cheering and whistling as we got closer. Although my dad left an hour later, I would continue to party wildly all night with my new found friends. This isn't and isolated event. I can tell you countless stories just like this one.
What I'm saying is that I feel good in Mexico. I feel equal to everyone else – in some cases even more special. As a black man I can say that this is rare but welcomed feeling.
Being a Black Traveler in Colombia.
In general I've always been treated well throughout Central and South America. I never feel like a second class citizen. However, now that I live in Colombia (South America) and I am becoming more aware of something that I didn't really notice when I first arrived on my backpacking trip.
The BIG difference between Mexico and a country like Colombia is that Colombia has a history of slavery. To be precise – Colombia had African slaves. Like in most countries where the enslavement of Africans existed, there is an obvious racial class, income and overall socio-economic disparity.
From my experience and observations here in Medellin over the past 4 years, I can say that it is much easier for a White traveler to be accepted socially than a Black traveler. For example in the case of dating – I see many white males who in Canada or the US couldn't even get a date, walking arm-in-arm with absolutely stunning colombian women. I am not saying that Black guys can't meet beautiful women here, it's just a lot easier for a blond-haired, blue-eyed guy.
I think that dating a 'Black Guy' is still a bit taboo is some countries in the Americas. It just isn't the social norm.
Check out this video made by my friend Jubril who is black traveler and entrepreneur.
Safety Concerns for The Black Traveler
Another question that I get is – Is it safe for a black man travelling through Central and South America? 
I remember when I first arrived in Colombia…friends and family would always ask me if I didn't feel scared. They always closed the conversation off with – "be careful out there"-
Here's the thing. At this point in history, I think it is safer to be a black man in Central and South America than it is to be a black man in the United States. Sad but true.
Not only do I think it is safer, but I think that there has been an increase in the number of black travelers to places like Medellin Colombia because when they come here, they feel more welcomed than they do in their own country.
My Humble Advice to The Next Black Traveler
I've heard it all.
I have been told things that I think some people mean as complements but actually really insult me.
One of those is "You're not like a real black guy, you're different".
I have heard that garbage spewed from the mouths of both males and females in an attempt to make me feel somewhat special. But to be honest, it doesn't make me feel better or special.  It is an insult to everyone else who is considered "Real Black".
It is obvious that the media and society has successfully created a persona of what a "real black man" or "black women" is like. It is as though the colour of our skin should somehow dictate the way we should all speak, dress, walk, and act.
So you are probably asking what this has to do with travel?
Well I think that it is up to every one of us to destroy the social stereotypes of what a black person is like. We need to get out there and show the world that we are all different. We need to be 100% ourselves when we travel. We need to interact with local people and have meaningful conversations with them. They need to understand our perspectives. They need to see that we to are intelligent human beings and more than just good athletes and performers (although we are some damn good athletes & performers).
There is only one way of doing this – WE NEED TO TRAVEL MORE. For those of you who need some serious travel inspiration, check out my friend Jubril's travel page called Passport Heavy. His videos are seriously motivating and makes me want to travel more.
Pack a backpack or suitcase and get out there. Don't just by a ticket and hide away at an all-inclusive resort. You need to interact with the local culture and show them yours.
If you have any advice, experiences (good or bad), or questions about being a black and travelling, I'd love to hear from you.