So you want to live in Medellin or take a trip to the city of eternal spring but you aren't sure whether you need to speak Spanish?
If your plan is to live in Medellin, read this article written by guest blogger Daniel. There are small clarifications and tips that you should definitely know — but the short answer is…
A resounding NO!
To live in Medellin, you do not need Spanish to function like you would back home.
One of the most beautiful cities in the world can be experienced with little-to-no conversing at all.
However… (And this is a huge point!)
Should you learn Spanish is a different question. (And the answer is yes—you definitely should)
To get the very most of your experience in Medellin, talking to the warm locals is an immense pleasure. Going dancing, partying, working, shopping—everything is better with Spanish.
But, for example, say you're like me— I've been living outside of the states, where I was raised, for about 3 years now. I wanted to come to a Spanish speaking country to see a different side of the world and truly experience life to it's fullest… whatever that may be. But, before I bought my plane ticket to MDE (the international Medellin airport), I was worried about how lonely and frustrated I would be. My Spanish was complete shit—and on top of that— for whatever reason, I just don't seem to have a "language-oriented" brain.
Language comes slow, and it comes hard for me.
But, having  lived for about 10 months in Medellin now — no way should I have been worried.
Honestly. If you think you need Spanish, of course it helps, but to come here from completely nothing to full immersion is challenging but completely doable.
It's actually quite sad and pathetic, but, I personally know expats that have been living here for years, decades almost, and they haven't learned any more Spanish apart from "Hola." It's stubborn and silly, really…
But, anyway! It just goes to show that you're probably already 10 times better than them— don't sweat it at the beginning!  
Here are some tips I've learned to be completely self-sufficient on DAY ONE!
#1: Carry a small notebook and have notes pre-prepared.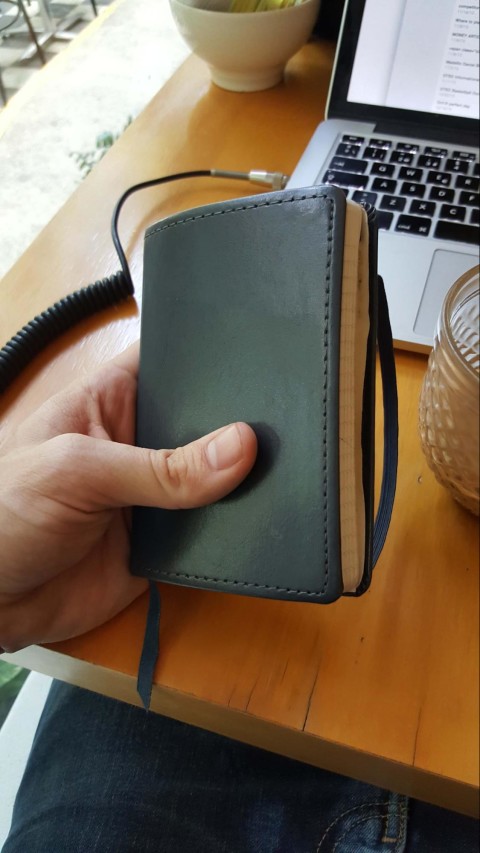 It's amazingly helpful. For example, if you need basic phrases, just write them down in a small notebook. Bust them out when you need to tell anyone something basic. For example, write down the exact address of your hostel/hotel/restaurants for taxis. Write down "Cuanto vale?" for, "How much?"—Basically any type of phrase you'll think you'll need to get around.
Use google translate to help you gather your phrases!
I highly recommend combining a book and wallet as one item you always take with you. I've done this for 3 years now. It's handy and helps keep my life in order. I write down Spanish wherever I go. For example, a Moleskine, pocket-sized notebook is perfect for this function. It includes a pocket for all of your creditcards/ID/money in the back. (And perhaps, won't get stolen because it looks like a book, but, you never know!)
The photo is mine! And it's busting out of the seams because it has so much cash in it right now—don't be worried it won't carry all your crap in it.
#2: Smartphones have the option for a Spanish dictionary— buy or download the free one.
This won't help for conversation, but you can look up difficult words if you're hit with a social situation "en espanol" you need to get through.
Here's a photo of the first Apps search I did.
#3: Get around by downloading an "off-line" google map.
This enables you to have free GPS throughout the city. It also gives you access to all the streets and, virtually, all of the places you may need to go to.
Here's a screenshot of my phone with Google Maps— and if you can see at the top—I'm not connected to wifi but still have GPS. This equates to travel freedom! No more being lost. Anywhere.
#4: Get social with bilingual people, ASAP!
Get a date, find a lover, find a friend, find a common hobby like Futbol—anything to get you farther into the culture, and thus, into Spanish. If you're nice, there will be nice people here to help you as well. Always say yes to social gatherings—especially in the beginning. Who knows, right?
#5: Use your hostel/hotel as a base of operations—they speak English 99 percent of the time!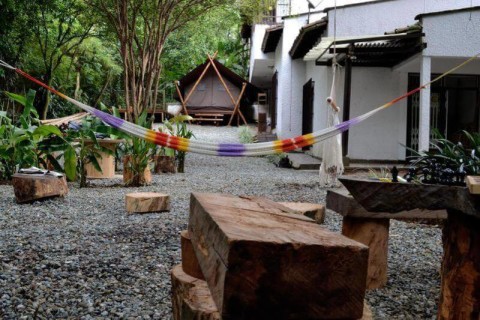 Medellin's been catering to the tourist industry for years now—it's enormous! This means that the chances your hotel/hostel receptionist being able to help you, with anything, is enormous. It's a long story, but I actually married someone from my first hostel for my visa to stay longer. Not as strange as you may think! Don't judge me! : P
#6: Your hostel/hotel is probably located in the touristy part of Medellin–Poblado!
This means that, most restaurants, or any place that wants your gringo dollars, will be ready to help you out. Trust me, they can understand what food you want to order with a simple point of the finger. I mean— obviously don't do this if you can use your small amount of Spanish—but the option exists if communication gets a 'lil bumpy.
Once you get settled with your necessities–bed, food, and a few people you can ask questions to— you're set!
And that's really all there is to it.
Now start learning Spanish! The best is just a little day, every day. Stick with it, and I promise you, you'll be conversing in a few weeks/months.
If you enjoyed this article, please comment, like, or share it!
It means a lot to us, guys! Support blogging!