Pergamino Cafe – You're about to discover the best coffee shop in Medellin
PERGAMINO CAFE, MEDELLIN COLOMBIA – Are you a coffee fan and  you're visiting or living in Medellin?  Well look no further for a good place to grab a warm cup of Jo!
Two Brothers, Pedro and Camilo Echavarria have taken their already thriving family business to a whole new level by opening what could soon be the hottest café in Poblado – or at least around the popular Parque Lleras area.
Although Pergamino Cafe only opened about 4 weeks ago, coffee is nothing new to the Echavarria family, who has been growing their own coffee since early in the 20th century. About a year ago they took their coffee brand 'Santa Barbara Estate' international by exporting their coffee directly to small roasters and boutique coffee shops across the United States. Pedro, one of the enterprising brothers, claims that seeing the shops in the States gave them the idea of starting a little boutique shop of their own here in Medellin.
Café Pergamino is already giving other coffee shops in the area a run for their money. In the past two weeks alone there has been a mass exodus of expat patrons from the popular Juan Valdez cafe (Colombia's Starbucks equivalent) around the corner. Trust me, I should know – I'm one of them!
Perhaps it's been a long time coming and coffee addicts finally have an alternative hangout spot with a more inviting ambiance and different tasting coffee. Or, maybe it's their selection of fresh pastries, tasteful music, funky coffee mugs, and reliable Wi-Fi that's drawing the large crowds.
Although Pergamino is in fact a little city in Argentina, the café gets its name from a different pergamino. Pedro explains that pergamino actually translates to 'parchment' in English. The parchment is a very thin layer that covers the green coffee bean and protects its freshness and quality during storage before the roasting process. Not to mention as he said quite happily – "It also just sounds nice".
 "Many places here in Medellin try too hard to be American, European or whatever else but they tend to over do it.  This place has its own style. We want it to have a timeless feel – not overly trendy. We want it to stand the test of time. Hopefully it will still be here in about 20 years' time and you will still feel the same vibe that it has today." ~ Pedro
I couldn't agree more with Pedro. The décor is simple and elegant and creates a very inviting atmosphere that makes customers want to stay for an hour or two. There is ample space and the mood lighting is near perfect for reading or getting some work done from your laptop. Pergamino seats about 40 people comfortably and 18 of these spots are outside, making it a true sidewalk café.
So what makes Pergamino Cafe so different?
"We have well-trained baristas that can tell you where your coffee is from, how it was processed, how it was roasted, and why it tastes the way it does  – that's something that's really hard to come across here in Colombia, which is sort of sad since we are a coffee growing country." – Pedro says with a slight snicker.
Not only are the baristas well trained but they also speak English, which makes it much easier for Gringos to walk in, place an order and get what they actually asked for.
Pergamino offer coffees from around the world. On the menu is a coffee from Ethiopia, two from local farms in Antioquia (Loma Verde and La Palma), and another from the southern state of Cauca near Popayan. Next month they plan on offering another bean from Rwanda, Africa. Since there is no kitchen to bake their own pastries on premises, they order their baked treats from three of the top bakeries in Medellin. Pedro says that they would prefer to run out than to serve stale pastry. A generous slice of chocolate cake will run you 4800 COP ($2.4oUSD).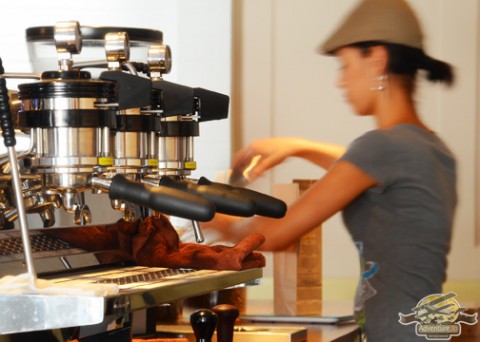 You can also find light meals like a simple turkey breast sandwich, a BLT or tasty salads made from fresh local produce. The average price of a sandwich or salad is about 12,000 COP ($6 USD).
To learn more about how their coffee is made, visit Santa Barbara Estate online.
Visit them for a cup of coffee in person at: Cra 37 (8a – 37), Medellín, Antioquia, Colombia
Check out their facebook page: https://www.facebook.com/pergaminocafe