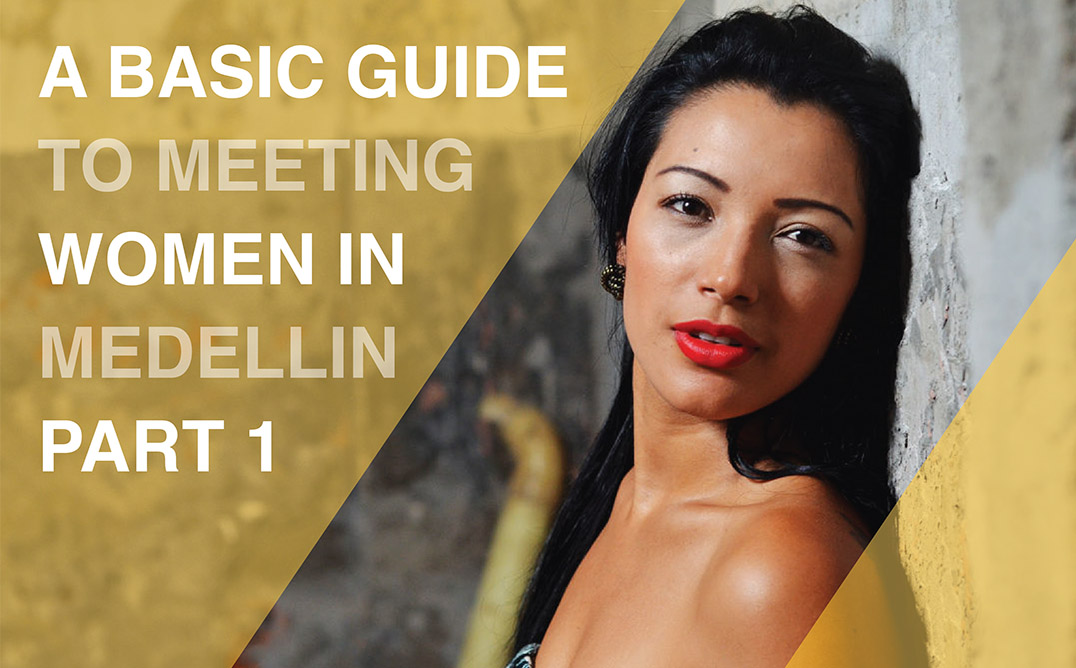 Meeting women in Medellin could be a lot easier than you think.
You're interested in meeting beautiful women in Medellin? Who isn't?
You've probably heard that the most beautiful colombian women are called Paisas (women from the state of Antioquia). If so, I guess the word is out. It's no longer a secret that Medellin (Antioquia's capital city) is stacked with beautiful women! Most guys who've visited Medellin probably go on and on about how many incredibly hot women are in the city. Some guys come to Medellin and date girls far more attractive than they could ever date back home. Others come and leave claiming that Medellin girls are gorgeous but too hard to get relative to girls in other parts of Central and South America. So what's the truth? Do the Colombian women like Gringos?
Different is Interesting
So you're an average-looking guy, traveling and looking to meet a Colombian girl or two….or five. Let's face it, your best chances of scoring with local women are in places where you are more of a geographical oddity. Basically, wherever you're the most different you're the least average, which in turn increases the level of attention you will get from the ladies. You know the old adage  "don't take sand to a beach"? Well let's frame it differently, if you are just another grain of sand on the beach, you just blend right in and go unnoticed. Get my drift? Go where there is little sand and get noticed.
PLEASE NOTE: I DO NOT Support Buying Girls! Personally, paying for girls just isn't my thing, I don't support it for many reasons but the option definitely exists in Medellin if that's what you're into. To each his own. Just know that where there's smoke, there's probably fire, so be careful who and what you get involved with.
Do you need to speak Spanish to meet Medellin Girls?
Obviously the more Spanish you speak, the easier it will be to communicate with women in Medellin. However, I know guys who can barely construct a proper sentence in Spanish and they still consistently hook up with local girls. I recommend at least learning the basics, since it shows that you respect the colombian people enough to attempt communicating in their native tongue. With that being said, I have seen horrible Spanish work favourably for some guys. Ironically, the girls think it's cute when a foreign guy botches up a cheesy pickup line. I have even met guys who have spent the night with a girl they met and when I asked what they talked about they say – "nothing really". They still manage to find romance even when everything else is lost in translation. I guess "love" is the universal language.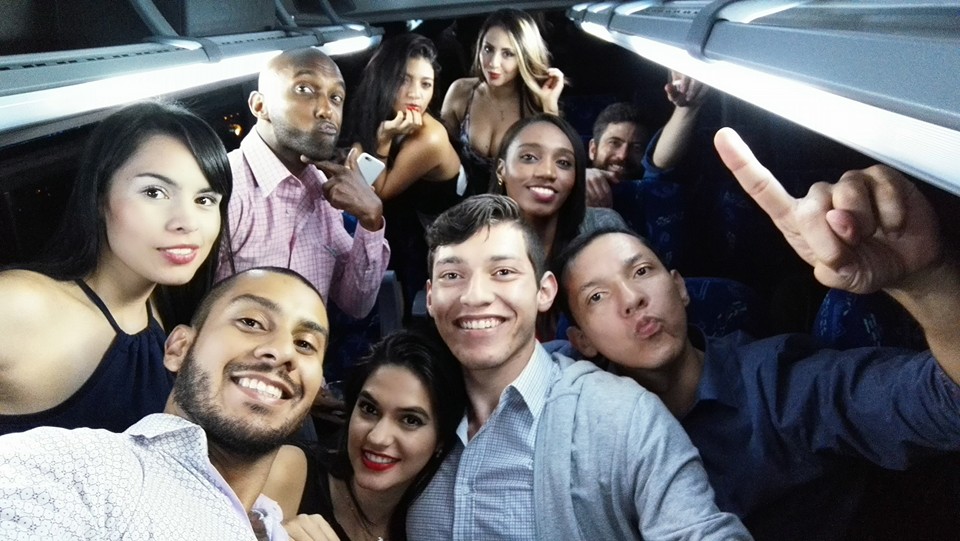 For those of you looking to date a colombian woman for more than just a hookup, Spanish is absolutely necessary. I recommend taking an introductory Spanish class prior to landing.  You can also hire an amazing private Spanish teacher in Medellin, like my friend Violet who charges about $10/hr. Investing about 10 hours ($100USD) could greatly increase your success rate and be the best investment you ever made. She offers free YouTube videos dedicated to helping guys to speak to Colombian women in social settings.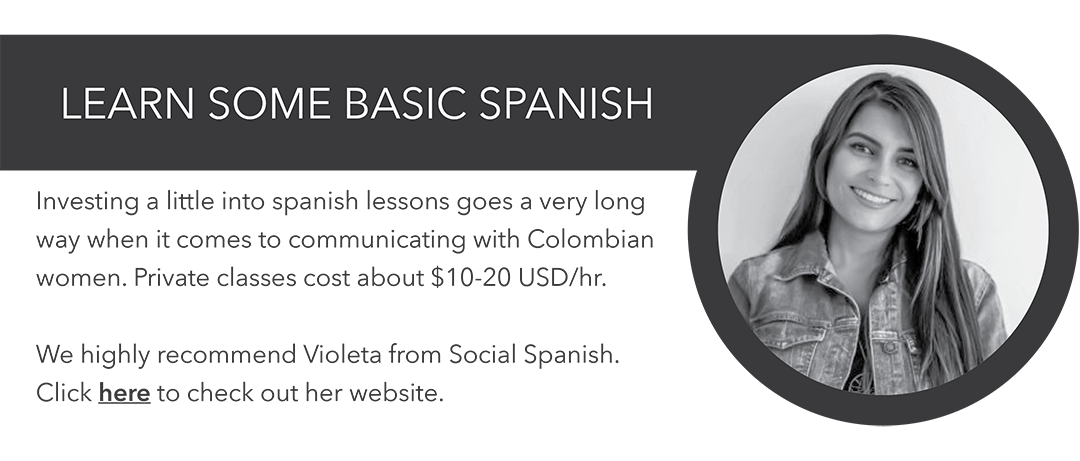 Dress for Success – Looks Are Very Important for Medellin Women
"Gross…He looks way too nicely dressed" – said no women ever!
Let's face the facts gentlemen – we are all judged based on the way we look. Perhaps you were lucky enough to be born with chiseled Brad Pitt facial features and the physique of a Greco-Roman wrestler. If so – you're a lucky bastard and perhaps this section doesn't apply to you. If not, then this section is especially for you.
I'm not sure who started the rumor or if one even exists, but it seems like many travellers, particularly backpackers come to Medellin expecting to see a beach.  I often see foreigners (males and females) strolling down Calle 10 barefooted or in washed out tank-tops way past their prime. This my friends is a very bad idea. While this may be normal and even acceptable in beach towns, it's highly inappropriate here in 'the big city'. As a matter of fact, the women in Medellin turn their noses up at this practice and will openly say that it is outright disgusting.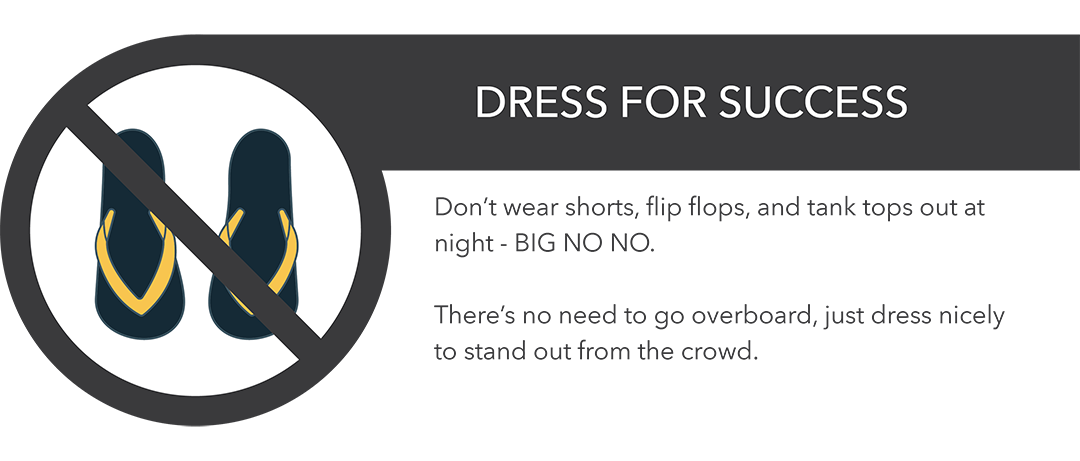 Spend just one day in Medellin and you will notice that both men and women take great pride in their appearance. It doesn't matter if it's 12 noon or midnight, in general they are well dressed and clean looking. Sure you may want to show of that nice tank-top that indirectly let's people know that you were at the full-moon party in Thailand, but it's better to just tell them in words.
FlipFlops: If you see someone strolling the streets in flip-flops then it's pretty safe to bet that he/she is a foreigner. Here in Medellin, people think that flip-flops are for the beach or pool, not for everyday walking. If you insist on sporting the flip-flops, do it in the day, but DO NOT wear flip-flops out at night or to a bar.
Body Hair Grooming: I can pretty much guarantee that if you look into the mirror and see a long tuft of hair protruding from your armpits, nostrils, or t-shirt, it's time to turn around and start trimming. In some cultures, nice lustrous body-hair can be a sign of being a 'real' man, but here it definitely isn't. A few years ago, even seeing a man with a beard was a rare sight. Although today beards are in fashion, they are still pretty well groomed. Do yourself a favour and pick up one of those 10$ facial hair grooming machines.
Shorts: Shorts are daytime attire in Medellin. And if you are going to wear shorts – another indicator that you're a foreigner – it's better to wear stylish shorts rather than beach shorts.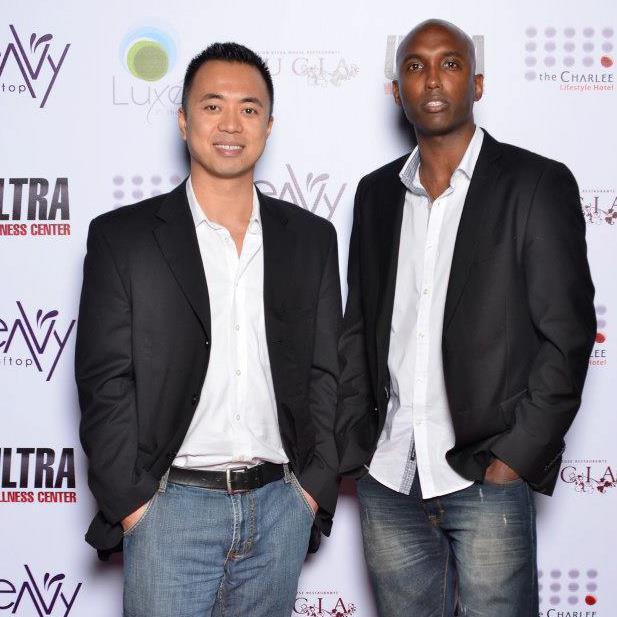 Dressing For Medellin Nightlife and Dating: Whether you are in Medellin or Melbourne, there is absolutely no harm in dressing nicely. Dressing nicely doesn't mean that you need to wear a shirt and tie, it means that you look visually appealing to the people you are trying to attract. For some, dressing nicely may be putting on a fitted t-shirt, a pair of jeans and nice pair of casual shoes. For others, it may be a button-up and a blazer. Whichever it is, put some though into it for heavens sake. There's an excellent write up confirming my theories about dressing, language and more in the Ultimate Medellin Colombia Bachelor Party Guide.
Approaching Medellin Women
In general, women prefer to be approached by men – that's the way it is all over the world, Medellín's no different.
Sure there have been situations where women have approached me and asked me to take a photo with them – a subtle invite to get to know them, but all other times I do the approaching.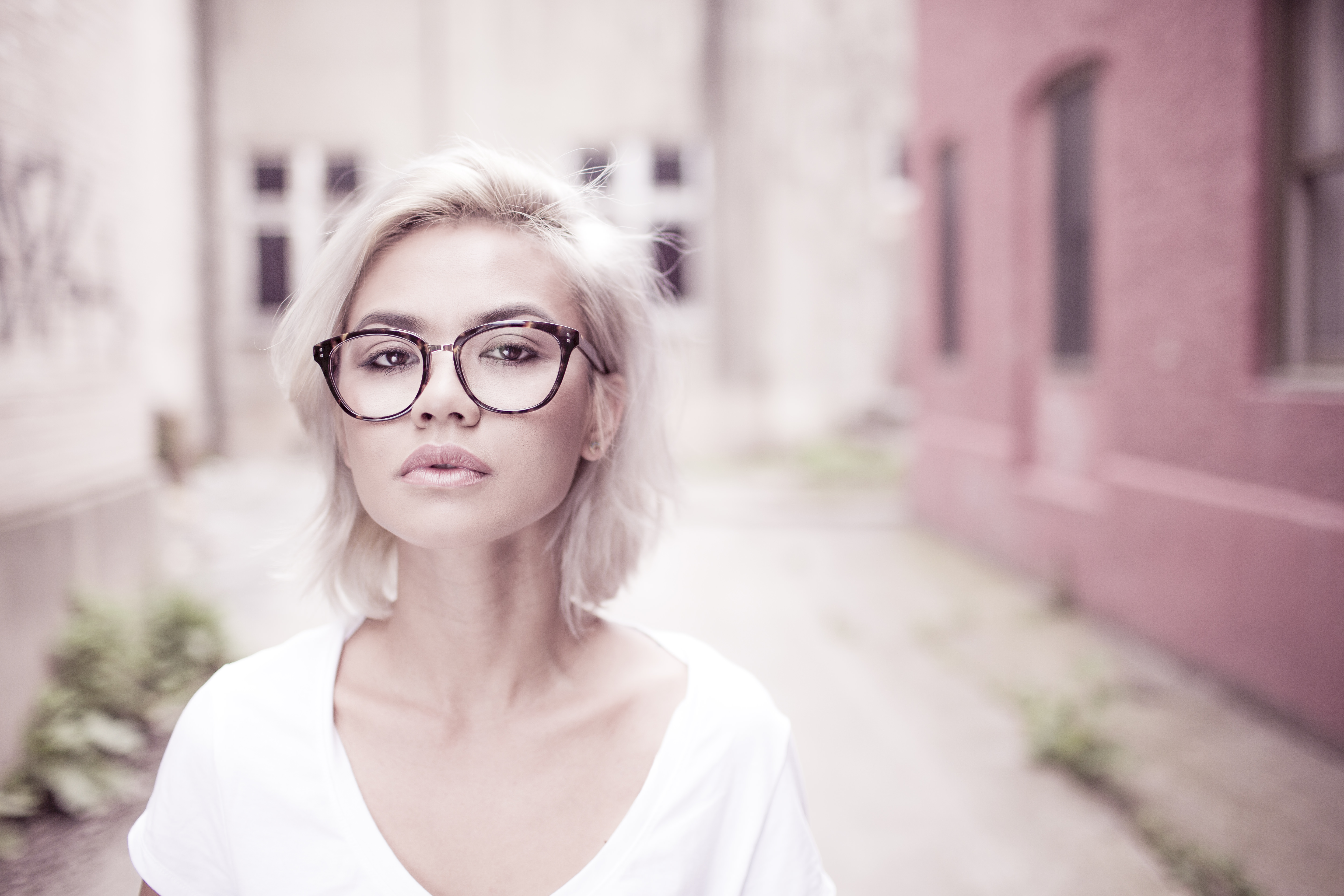 Luckily in Medellín, girls make it blatantly obvious if they find you attractive. From across the room they will lock eyes with you just long enough to make you feel moderately uncomfortable. This is your cue to approach them. They will continue making eye contact to get your attention in hopes that you will grow the huevos (eggs/balls) to walk up to them and say something clever. Regardless of the country or situation, you need to exude confident (not arrogance) when you approach women because they can smell fear from a mile away and it ain't sexy!
Approach with a smile and start speaking, the rest is easy peasy since Paisas are generally really warm and receptive once you are on speaking terms. Before long they will be calling you affectionate names like mi amor (my love) and mi corozon (my heart).
Getting absolutely shit faced and walking up to women like a horny bat out of hell probably won't get you far. The loud obnoxious frat-boy persona that I see some foreigners trying to use just doesn't work here. Medellin isn't Cancun at spring break.
Where is the best place to meet girls in Medellín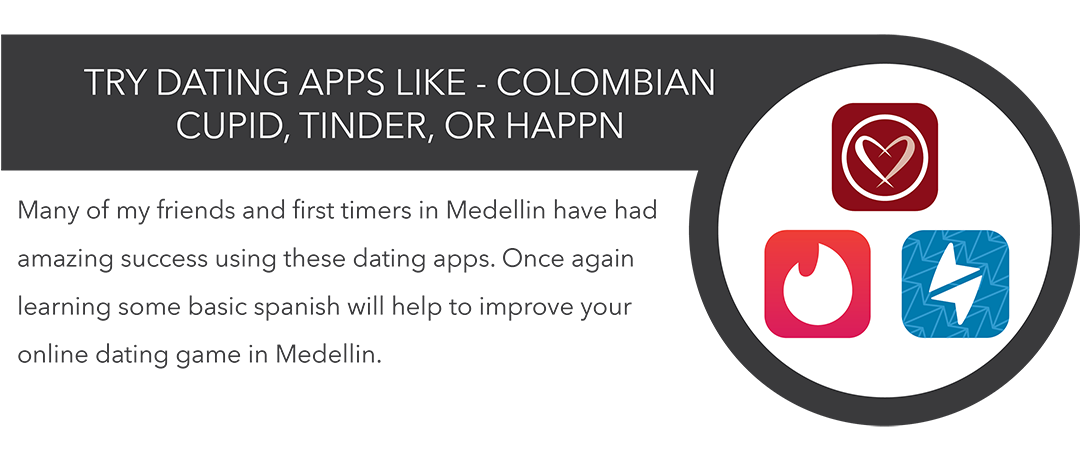 Dating Women in Medellin – Using Colombian Online Dating Apps and Websites
I am personally not big into the online dating scene. I am a social guy who likes to get out and work a crowd. I am more awkward on the keyboard than I am in person. My personality shines much brighter in person than in pixels and right swipes. But that's just me.
With that being said, many of my friends and first timers in Medellin have had amazing success using the Tinder App and the popular dating website Colombian Cupid. Both of these have free and paid versions. You create your basic profile with limited capabilities or pay a monthly/annual fee to unlock all the bells and whistles. I would recommend paying the small fee since the free version has many handicaps.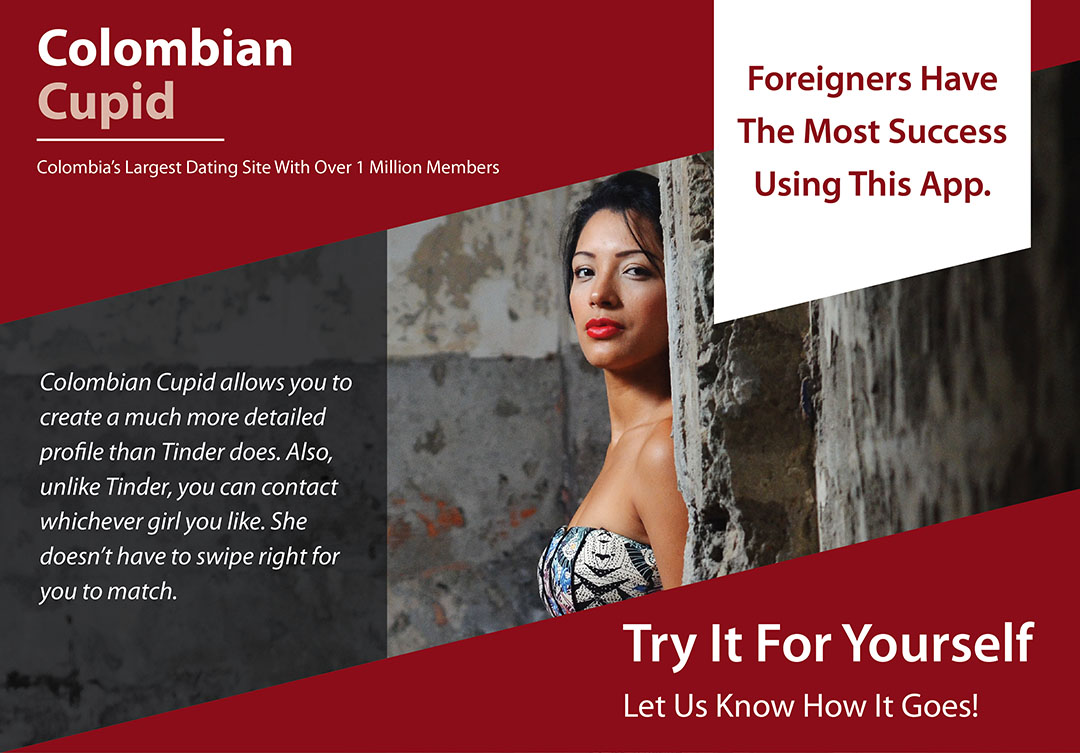 Colombian Cupid allows you to create a much more detailed profile than Tinder does. Also, unlike Tinder, you can contact whichever girl you like. She doesn't have to swipe right for you to match. Some guys even have an email template that they basically blast out to all the girls they are interested in.
If you've had any success with these apps be sure to leave a note for all those to follow.
Have you had a good or bad experience with meeting women in Medellin? Leave a comment and tell us about it.
Outside The Hostel – Playing the Gringo Card
If you're lucky enough you may not even have to leave your hostel, thanks to those we've dubbed 'gringo hunters'. Gringo Hunters are local girls who spend a considerable amount of time at hostel bars and clubs where foreigners are most likely to be found. They usually travel in pairs or small groups and tend to speak enough English to carry a basic conversation. They are the easiest to approach since they actually want to be approached. Unless you lack basic social and conversational skills, these girls are the easiest to meet.
El Poblado is Medellín's wealthiest area. What this means is that Poblado is where some of Medellín's richest people go to play when the weekend comes around. It also happens to be where some of the city's most stunning woman go to strut their stuff. Rich beautiful women, perfect right? Maybe, but carefully consider your audience. They have probably vacationed in North America and Europe and may have even lived outside of Colombia at some point in their lives.
What I am saying is that to Poblado girls your gringo-ness is not as much of a novelty as it would be in other areas of Medellín. Don't get me wrong, by no means are they unattainable, it just takes a bit more work and money. They can easily afford their own drinks but usually the guys tend to pay for everything when they go out (part of the culture). Remember this when you ask a girl out on a date – the guy fronts the bill almost always. Also, don't be surprised if you ask a girl out and she shows up with a cousin or a friend. Weird yes, but it happens all the time. And yep – you may have to pay for her guest too.
If you aren't a natural looker or a confident approacher, I recommend trying another neighborhood where you can play your gringo card more effectively. The further away you go from Medellin's wealthy nucleus (Poblado and Lleras Park) the easier it will be to pickup.
Other areas with bars and clubs where you can meet girls are Barrio Colombia, Envigado, La Strada, Rio Sur, Calle 70, and Centro which all receive less gringo traffic.
***My number one tip for Meeting Women in Medellin at Night Clubs & Bars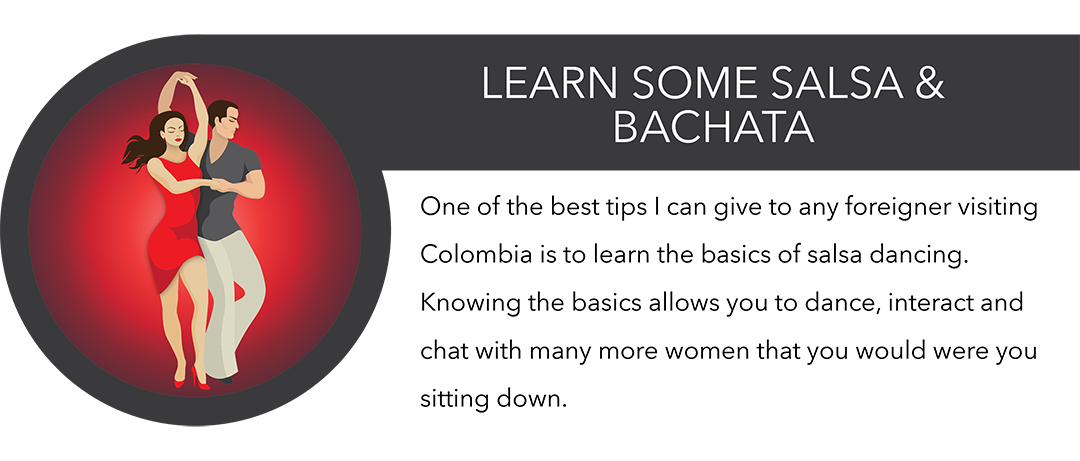 Salsa is one of the main musical genres you will here all around Colombia. One of the best tips I can give to any foreigner visiting Colombia is to learn the basics of salsa dancing.
I remember when I was traveling through Central and South America and a salsa song came on in a club. I would immediately sprint off the dance floor to the closest seat that would accommodate my scared ass.
When I got to Medellin, I said – enough's enough. I went to a free trial class and by the end, I hired the instructor for 10 private classes. This is perhaps the best investment I made into improving my experience dating in Medellin. Much like private Spanish lessons, private salsa classes in Medellin cost about $10/hr. This is a great opportunity to make a $100 investment into something that will benefit you for a lifetime.
Even if you think you have two left feet, it's worth giving it a shot. Nothing ventured, nothing gained. By the time I was finished my 7th class, I was comfortable enough to ask girls to dance in any club. I was still no pro, but I didn't feel as lost and scared as I did before. As a matter of fact, I continued doing private classes for a few more months because my confidence keep increasing with every class.
Sitting down and watching people dance in clubs sucks. Knowing the basics allows you to dance, interact and chat with many more women that you would were you sitting down.
Managing Your Relationship – Messaging, Calling and Unreliability
So you managed to get her talking and laughing, but now you probably want to get her phone number so you can arrange a date. Or you can just scribble down her email and add her on Facebook (seems like the way of the future).
Which brings me to another key suggestion – unlock your cell phone, buy a SIM card, and get a local Colombian number – even if you are only going to be there for a week or two. You won't regret it. If you don't have a phone, getting in contact and arranging a meeting with the beauty you just met will be almost impossible.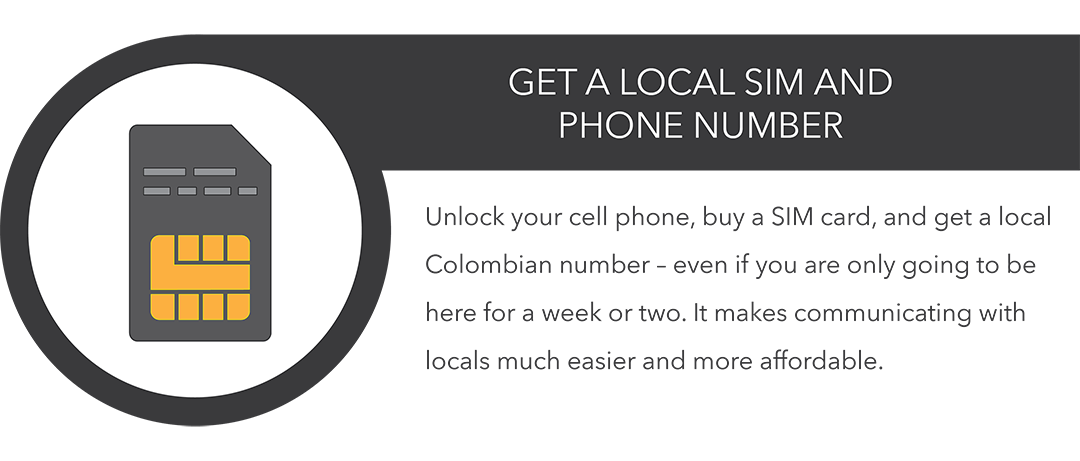 Like many other guys, I have been in the situation where I hit it off really well with a girl, got her number and even gave her a parting kiss, then absolutely nothing became of it. When you text message a Paisa girl, she may get back to you the next second, but at other times it could take her a day, a week and in some extreme cases up to a month to respond. It is very frustrating, but there is absolutely nothing you will do to change this situation.
Don't expect her to call you
Because calling from a cell phone is so expensive, girls will actually call you and hang up before you pick up, so that you can call them back and pay for the call – I'm dead serious.
Many guys who have been living in Medellin for a while actually set up multiple dates on the same day knowing that most of the girls will flake out. If you are stood up or you have to wait an extra hour or two for your date to show up, don't take it personally, you aren't the first or the last. Just the other day I had a Paisa girl say she would meet me at 10pm and she showed up at 12:30am. Moral of the story – She showed up.
***Part II: If you have a few more minutes, be sure to check out my second post about my experience dating Colombian women in Medellin. Part 2 was written one year later and offers a different perspective after being more experienced and understanding paisa culture better. You can also check out My friend Daniel's guest article about his experience using Tinder in Medellin!
For another perspective from an American guy living in Medellin about dating in Medellin, check out my boy's post on the Medellin Buzz.