If you're traveling around Colombia, chances are you'll want to make your way up the coast to one of the country's beautiful beach towns.
If you are heading to the much talked about Parque Tyrona or Taganga Beach, you will most likely stop off in Santa Marta for a night or two like I did. Santa Marta is the country's oldest remaining city and it's know for its colonial architecture, rich history, and close proximity to some of the country's most beautiful beaches and nature reserves.
Many travelers use Santa Marta as a home base to see the surrounding areas and will stay for a night or two before or after camping in Tyrona Park or trekking to the Lost City. Unless you're really a minimalist with an ultra-lite 30-litre backpack, it is highly recommended that you pack a light bag and leave your big backpack in the city.
While in Santa Marta I stayed at a hostel called La Brisa Loca, a restored 80-year old mansion centrally located in the heart of the colonial town.  I was able to catch up with the friendly owner Ryan, a young guy from California who like most hostel owners was traveling through South America, fell in love with Colombia and decided to stay. Three years later, he and his brother Evan are running one of the most popular backpacker hostels on the coast.
What to expect at Brisa Loca
"I don't want to mislead people with the photos, sometimes people come expecting a fancy hotel, but this is a hostel" ~ Ryan (Owner of La Brisa Loca)
FUN TIMES – Brisa Loca can be quiet at times but it is more of a party hostel than a seaside getaway. La Brisa Loca literally translates to "The Crazy Breeze", so if you are looking for some quiet time to contemplate the meaning of life, this isn't the place for you. Not to say that you won't enjoy moments of peace and relaxation, but this hostel caters to all types of travelers, including  loud party animals with a serious aversion to sleep.
There is a big bar on the second floor that really gets going – especially on weekends. The bar typically gets packed from 8-9pm when the bartenders ring a giant bell to signal the start of happy hour.  With no official closing time, the bar sometimes stays open well after midnight (mostly on weekends), so sleeping in a nearby dorm room is virtually impossible unless you fall into a deep coma. Once the bar closes, diehard partiers move to the rooftop terrace to keep the action going. Every Thursday night after happy hour there is a fun trivia night in the bar with a giveaway of a bottle of rum to the team that comes out on top. Proceeds from the festivities go to a local charity called Mariposas Amarillias.
The Rooms
The cheapest option is a 10-person dorm with a ceiling fan (20,000 pesos/$8USD) but you can also splurge and stay in a cozy private room with ensuite bathroom and air conditioning (70,000 pesos/$35USD). Even without the air conditioning the rooms are very breezy at night, so unless you're a polar bear a room with a fan will probably suffice.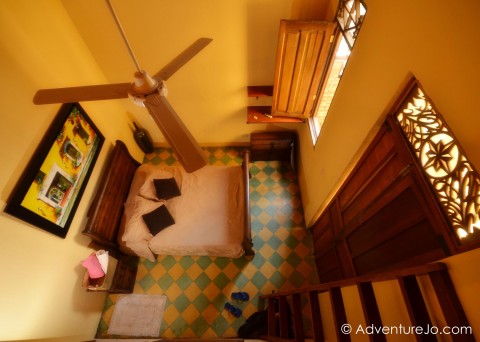 In addition to the bar, there are four other common areas including a TV room, a courtyard with a swimming pool, a lounge area outside the bar, and my personal favourite – the rooftop terrace with hammocks and a pretty sweet view of what some claim is the oldest cathedral in the country. They are also in the process of creating a little gym on the terrace for those who are hardcore enough to workout after a long night of drinking.
There is a public kitchen available but it is very small and only comfortably fits about two cooks at a time. I personally did not enjoy my cooking experience due to the limited space and lack of utensils. However, with that being said the hostel has a great restaurant that offers breakfast (starting at 6000 pesos/ $3USD) and a pretty extensive pub-style lunch and dinner menu.
Watch the mini-video I made for La Brisa Loca

If you are going to Santa Marta, I highly recommend staying at La Brisa Loca. I had a blast and the staff are very friendly and helpful.
A Few Insider Tips
Partying in Santa Marta: When looking for parties in Santa Marta, I found that the only real nightclub that plays a good mix of music and opens past 1 am is a place only a few blocks from La Brisa Loca called La Puerta. The best thing about this bar is that from the dancefloor you can look right up into the starry sky – there is no roof! There is also a nice courtyard at the back with a few tables and chairs if you want a break from the busy bar area. Other than La Puerta, there are tons of little bars along the waterfront and in walking distance from the hostel. The best day for partying in Santa Marta is on Saturday when all the local people go out to have some fun.
Transportation in and around Santa Marta: A taxi from the central bus terminal to La Brisa loca should cost you 5000-6000 pesos ($3USD). If the taxi driver tries to charge a more, tell him that you know the price is 5000. A 15-minute taxi to nearby Taganga is about 8000-10000 pesos, while a local bus costs 1200 pesos.
If you found this post helpful, pass it on to someone else traveling to Santa Marta. Ah…and if like AdventureJo.com, please check out my official Facebook Page and follow on Twitter for more travel tips.