The word "castle" more often conjures up stately royal residences than fortresses built to withstand attack. Many of the nation's castles, though, were built with defence in mind and are often strategically located on high ground, offering stunning views. These five must-visit castles have it all: history, location, and beauty.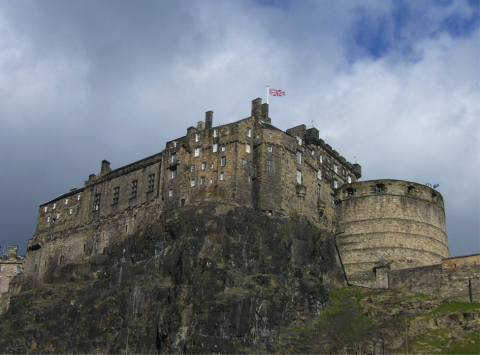 1. Edinburgh Castle
Perched atop a towering volcanic rock, Edinburgh Castle casts a watchful eye over the historical Scottish city center, surrounding Pentland Hills, and the fierce North Sea. This rugged setting adds to the castle's beauty and allure as well granting it a strategic advantage. Dating back to the 12th century, the castle served as the seat of Scottish monarchs until the 1600s, when it was converted into military barracks. The castle is spread across an assortment of buildings, so allow plenty time to visit them all.
2. Elizabeth Castle
Surrounded by the waters of the English Channel, Elizabeth Castle sits on a rocky outcrop about 100 m (328 ft) away from Jersey's mainland coastline. At high tide, the sea surrounds the base of the castle, creating a beautiful and fearsome effect. Climb to the top of the battlements to enjoy views of St. Aubin's Bay, which are almost as impressive as the castle itself. The ferry is arguably the most authentic way to access the castle. If you'd rather stroll, visit when the tide is low for access to the walkway.
3. Corfe Castle
With a rich and bloody history that stretches over a 1,000 years, it comes as no surprise that Corfe Castle–now in ruins–has seen better days. Nonetheless, the stark beauty of its ancient stone remains and its role in UK history earn its rightful place on this list. Give yourself plenty of time to explore hidden nooks and crannies and tread in the footsteps of William the Conqueror, the first Norman king of England. Perched at the top of a hill, the castle commands impressive views over Purbeck.
4. Bamburgh Castle
Combining a picturesque location, imposing medieval architecture, and grand interior, Bamburgh Castle boasts all the things that make a truly special castle. Constructed on a North Sea outcrop for defensive purposes, the castle dates back to the 11th century. Today the influential Armstrong family owns it. Once you've fully appreciated the views and dramatic exterior, head inside for a guided tour of the 14 rooms open to the public, home to fine artworks and lavish furniture.
5. Cardiff Castle
Witnessing Norman invasions, popular uprisings, and civil war, the ancient Cardiff Castle has endured its fair share of turmoil and bloodshed. Restoration work conducted over the centuries has helped ensure that this mighty structure still stands today, albeit in a slightly different guise than its original design. Its medieval defensive walls proved their enduring strength and efficacy in World War II, when they accommodated air raid shelters built to hold 1,800 people. The shelters, castle apartments, and Norman keep can all be explored today. Don't miss the onsite regimental museum, dedicated to the history of the Welsh soldier during your UK holiday.
Must-visit list
Magnificent castles, ranging from hilltop lookouts to haunting ruins, dot Great Britain. For their intriguing histories, stunning settings, and striking beauty, these five castles make the must-visit list on your United Kingdom Trip Itinerary.
A final bit of advice is about making cheap long distance calls to the UK . At some point you are going to have to get in contact with airlines, hotels and/tour companies to organize your Fearless Castle trip. I am personally a huge fan of SKYPE. I load up $15USD in credit and I have about 6 months of credit for calls from my computer or mobile. I am all about saving while traveling and Skype has saved my a$$ many a time.