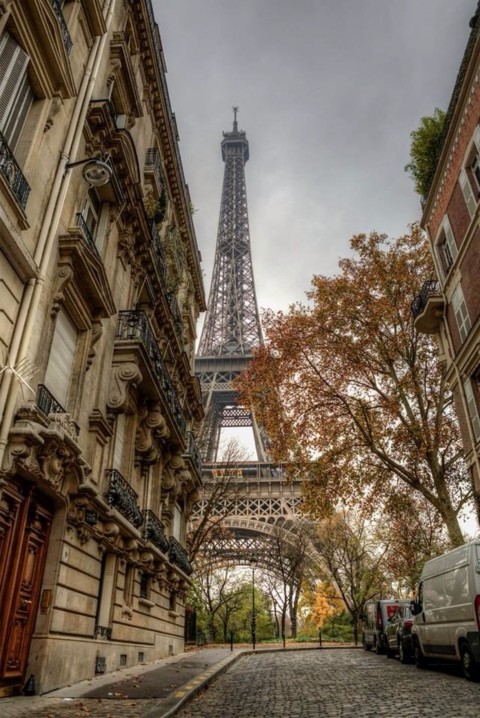 Photo by Steimij via Trover.com
Sharing borders with Spain, Belgium, Germany, Switzerland, and Italy, France is the ultimate country to visit on any European adventure. Choose one French city and spend a week before driving the Chunnel from northern France to the United Kingdom, or spend your entire vacation buffing up your French skills in different cities across the country.
You'll never be disappointed in any visit to this culturally diverse country with more than 66 million residents, but is it possible to visit the world's most popular country for tourists cheaply? Yes! Take it from someone who planned to visit France for four days and stayed two weeks instead. It's easy to fall in love with the rich culture and beautiful views. Here are the best cities to visit and where to stay as you enjoy them on a budget:
Nice
The French Riviera is considered something of a playground for the rich, especially Cannes and Monaco, but that doesn't mean you need to be famous to visit. Nice la Belle (Nice the Beautiful) is the second-largest city in Provence-Alpes-Côte d'Azur and it is well-loved for its pebbly Mediterranean beaches, former artists in residence, and busy squares with food, spices, and other offerings.
It's easy to travel the city by tram or foot, making certain to visit Place Garibaldi for its architecture and history and Place du Palais for concert, films, and events all day and night. Be sure to buy some of the region's famous handmade Lavender soaps that you'll find at many local shops and stands. Despite Nice's population of more than 1 million people, it never feels too crowded, but if you seek a few hours of solitude, visit the nearby Medieval hilltop village in Èze or catch a quick train to Ventimiglia, Italy for lunch.
Paris
With more than 45 million visitors annually, Paris is one of the world's most popular tourist destinations. The City of Lights is more than deserving of this claim to international fame, considering its rich culture and history. Visit the Eiffel Tower (yes, it's touristy, but go!) and enjoy food and beverages at the restaurant Le Fumoir which, despite its proximity to the Louvre Museum, is consistently inexpensive and delicious. Try one of the many day tours as well!
If you want to fully indulge in the city's romantic ambiance, fashion culture, and delicious croissants, you'll want to source discounted hotel accommodations with tips from seasoned travelers like adventurejo.com. They suggest traveling to the city in August since it's the traditional vacation time for residents. Hotels in Paris can easily be found on Hipmunk.com with discounts of around 50 to 70 percent during this time period.
Marseille
Located in southeastern France, this port city is a major center for art and history. There are many museums and five art galleries to explore within Marseille, plus charming city squares and popular places like the Pierre Puget Park for lounging and practicing your French with locals. And, of course, don't miss Notre-Dame de la Garde, the green limestone Catholic basilica towering above the city.
Stay at The Balladins Marseille St. Charles Hotel for an affordable stay only a few minutes' walk to La Canebiere, the historic high street in the old quarter, and Le Vieux Port, providing gorgeous views of the city's harbour. The hotel is ideally situated to explore all aspects of the busy city, plus free Wi-Fi and air-conditioning allow you to keep cool while you share photos and stories with friends and family back home.
Strasbourg
Situated on the border of Germany, Strasbourg is the capital city of the Alsace region of eastern France. The seat of the European Parliament and European Court of Human Rights, the city is more than just politics. The city is known for its beautiful Sandstone Gothic cathedral, medieval cityscape, a large quantity and variety of museums, and many bridges and parks. The beautifully preserved city center, the Grande Île, is easily navigated by foot, tram, or bus, and is great for cycling as well
To really get a feel for the city's history, visit the small area between the city's rivers called Petite France. Get your camera and social media apps ready, it has some of Strasbourg's most photogenic building and streets, not to mention a number of canals and medieval half-timber houses to admire.
Bordeaux
Yes, Bordeaux like the famous wine! Located just a half hour inland of the Atlantic Ocean, Bordeaux is so much more than a major wine industry capital, though. Built upon the River Garonne, the city is filled with fine architecture, exceptional shopping, many historic sites, and a thriving arts and culture scene.
To fully indulge in the surrounding wine country, consider staying at an Airbnb accommodation, where a private room near one of the outlying wineries can easily be had at more than half the cost of most hotels. If you're looking to stay for longer, consider booking a room at the Appart'City Bordeaux Centre Hotel, situated near the city center with a living area and kitchenette in each room. The hotel also provides a laundry room, which is especially helpful if you're backpacking or running out of clean clothing from more than a few days in France.
Arles
Rich in history and architecture, this city in Southern France was once home to Vincent van Gogh. Today, a visit to Arles is for those who enjoy remote tranquility along with stunning beauty. One of the city's biggest attractions is the surviving remnants of Roman architecture, including the Roman Baths and the Roman Amphitheater, which is still a venue for festivals and bullfights.
Wander down the city's many rues and pedestrian boulevards and see if you can't spot some of the late afternoon light Vincent van Gogh particularly loved. Visit Place du Forum to discover the bright yellow café he famously painted and enjoy some of the city's local shopping and food.
Any tips for these cities or additions to the list? Add them to the comments!