Beverly Hills is a popular destination for travelers seeking a taste of Hollywood and a glimpse of A-listers. There's no better spot for experiencing the luxe atmosphere of this town than in some of the area's top restaurants. These hot spots are a must-see for visitors who can get a table.
Fogo de Chao for an All-In-One Dining Experience
The Fogo de Chao Brazilian Steakhouse is impossible to miss with its central tower glowing blue against the skyline. Dining at Fogo de Chao is a unique experience. Meals are one served at one inclusive price, and include a gourmet salad and sides bar, your choice of 16 cuts of fire-roasted meats, and dessert. The signature steak is the traditional Brazilian picanha, available with a light traditional seasoning, or heavier garlic.
The Tower Bar and Restaurant for Old Hollywood Elegance
The Tower Bar and Restaurant, designed by Paul Fortune, channels the timeless feel of old-school Hollywood. The intimate dining room seats only 80, and diners enjoy the attentions of famous maître d' Dimitri Dimitrov. Entrées range from chicken pot pie to filet mignon, offering something for nearly any taste. The exclusive restaurant is a favorite of stars like Jennifer Aniston and Scarlett Johansson, so visitors who can score a table may enjoy some star-gazing with the meal.
Mastro's Steakhouse for Rich Delights
Mastro's Steakhouse in Beverly Hills boasts warm contemporary décor and elegant accents that suit the gourmet menu perfectly. Begin with an appetizer of caviar, oysters, or lobster cocktail. Dine on expertly prepared steaks, chops, or seafood, and finish with a sinful desert like the triple layer chocolate cake or crème brulee. The Beverly Canon Gardens are across the street for a post-dinner stroll. Rodeo Drive is just minutes away for visitors who prefer to walk off their rich dinner browsing Prada, Gucci, and Dolce & Gabbana.
Hollywood Katsuya by Starck for Japanese Cuisine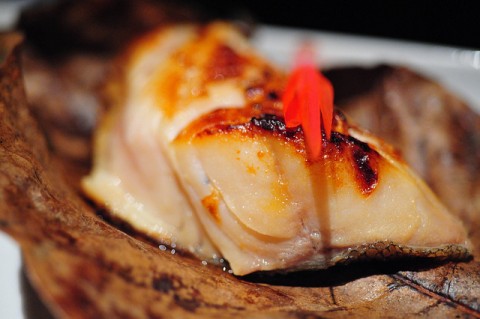 Image via Flickr by Eric Chan
Located at the corner of Hollywood and Vine, this Japanese restaurant is a hot spot for celebrities and tourists alike. The sleek modern atmosphere features ample use of chrome and white leather. The menu is heavily laden with sushi, but includes other Japanese classics as well, such as miso soup and light starter salads to round out the meal. This chic restaurant often sees major celebrities like Harrison Ford, Blake Lively, and Halle Berry.
Joan's on Third for Casual Dining
Visitors who are looking for a quick casual meal should try Joan's on Third. Enjoy fresh gourmet sandwiches, salads, and soups at the café's communal table. Options range from tuna salad to Joan's turkey meatloaf sandwich. Vegetarian sandwiches are abundant as well, such as the grilled vegetables and goat cheese, garden vegetable, and fresh mozzarella, tomato, and basil options. Joan's on Third has a warm, friendly atmosphere where you may literally rub elbows with big stars like Amanda Seyfried or Kirstin Dunst.
Enjoy gourmet dishes, plush dining areas, and ample opportunities for celebrity spotting in these hot Beverly Hills locations. Start planning your trip now and use Hipmunk.com to book cheap hotels in Beverly Hills.