Looking for an affordable breakfast or lunch spot in Medellin? Try The Flip Flop Sandwich Shop near Parque Lleras in El Poblado!
Right near the landmark Parque Lleras there's a new sandwich shop that caters to the flip-flop wearing backpacker crowd. So get your Havaianas on head over to the Flip-Flop Sandwich shop.
The Flip-Flop's proud owner and wizard in the kitchen is Chris, a friendly gringo from the little town of Braderton, Florida. Before finally opening his sandwich shop in mid October of this year, Chris had been visting Medellin since 2009 with dreams of starting some sort of small business and settling down in the city of eternal spring.
Chris remembers his friend saying that a little shop that serves fresh sandwiches would be a great addition to the neighbourhood. However, it wasn't until this year when he passed the current location that he thought "You know what would be perfect right here? A sandwich shop!" – And so the little Flip-Flop Sandwich Shop was born!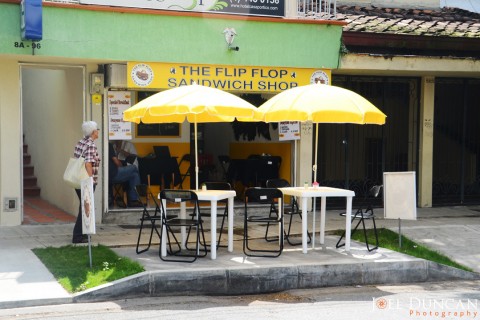 The modest eatery fits about 10-12 people. It only has five tables – three inside the shop and the other two on the sidewalk shaded by big yellow umbrellas. The kitchen is also quite tiny, but in this case size really doesn't matter since Chris still manages to produce mouthwatering food in the little space.
Doors open for business at 8am in time for breakfast and closes down in the afternoon – 4pm or 6pm depending on the day (See hours of operation below). If you are staying at a nearby hostel like Casa Kiwi or Tiger Paw this is a perfect place to grab a good breakfast and coffee to help ease the hangover pain after a night of Medellin's crazy nightlife. If you're on a bender and you want to continue the party, cheap cold beers are also available.
For the Aussi traveler longing for a taste of home there's even Vegemite. Yep Vegemite, that brown salty paste that Time magazine calls "Practically Australia's national dish." To say that Vegemite is an acquired taste is an understatement, so unless you are Australian with the trained palette, try Vegemite at your own risk.
For lunch or an afternoon meal I recommend going with the shop's specialty – sandwiches. Try my favorite, the juicy Buffalo Chicken Sandwich Combo (12,000 COP) made with real grilled chicken breast. Every meal is made with fresh ingredients. Just peak thorough the little window into the kitchen and watch your meal prepared from scratch with care and love – a definite benefit of buying from the little guy on the block.
For a real treat try saying "Flip Flop Sandwich Shop" 5 times really fast  🙂
Location: Carrera 36 #8A-92 Medellin, Colombia
Tele: 301 5032807
Hours of Operation: Sun, Tue, Wed (8am-4pm). Thurs, Friday, Sat (8am-6pm)
Average Spend: 9,000 COP ($4.50USD)
See Trip Advisor Reviews of the Flip Flop Sandwich Shop 
Visit The Flip Flop Shop on Facebook